NAHL announces Bauer Divisional Stars of the Week
January 15, 2018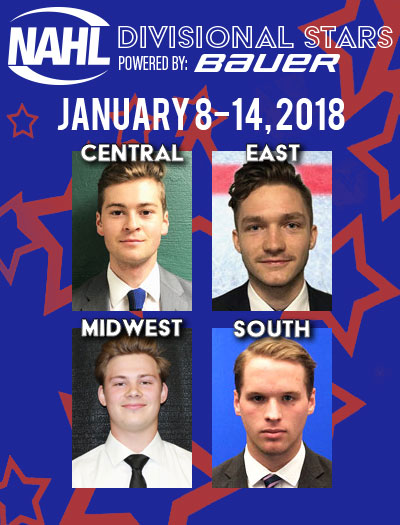 The North American Hockey League (NAHL) today announced the Divisional Stars of the Week presented by Bauer Hockey for the week ending January 14, 2018. The Bauer Hockey Divisional Stars of the Week is a weekly feature during the 2017-18 regular season that honors the top performing players in each of the four NAHL divisions. Only players that are nominated by their respective teams are considered for the Divisional Players of the Week award.
Central Division Star of the Week: Alex Schilling, goaltender, Austin Bruins
With three more wins this past week, the Austin Bruins kept pace amongst the leaders in the Central Division and pushed their winning streak to five straight games. Goaltender Alex Schilling, 20, picked up the win in two of the three games and did not allow a goal in the action that he saw. The 6'1/185 lbs. native of Medina, Minnesota came into Wednesday's game in Brookings after the Bruins went down 4-0. Schilling stopped all 18 shots he saw the rest of the way as the Bruins came from behind to win in overtime, 5-4. On Saturday, Schilling was back in goal in Brookings and made 33 saves in a 2-0 shutout of the Blizzard. For the weekend, the Air Force recruit stopped all 51 shots that came his way in 96+ minutes of action. "Alex really came up big for us this week. We put him in about halfway through the game on Wednesday and we were very fortunate to get two points that night, but we definitely could not have done it without Alex stopping all 18 shots that he faced. He carried that over into Saturday and earned his second shutout of the season. The Air Force Academy is getting a really good goalie and an even better person next season," said Bruins head coach Steve Howard.
2nd Star: Nathan Burke, F, Aberdeen Wings
Honorable Mention (alphabetical): Austin Dollimer, F, Minot Minotauros – Colton Fletcher, F, Aberdeen Wings – Alex Pollock, F, Bismarck Bobcats – Jack Robbel, G, Minot Minotauros – Jaden Shields, D, Austin Bruins – Zach Van Zant, D, Bismarck Bobcats
East Division Star of the Week: Marko Sturma, goaltender, Northeast Generals
The Northeast Generals went on the road this weekend and picked up two wins in three games in a series with the Johnstown Tomahawks. Goaltender Marko Sturma, 20, picked up both of the wins in the series as the native of Poprad, Slovakia, stopped 58 of 62 shots in the wins. On Friday, Sturma (6'1/176) made 23 saves in a 4-1 win and on Sunday, he made 35 saves in a 5-3 win. To date, Sturma has a 12-5-1 record with a 3.14 goals against average and a 91.2% save percentage. "Marko has been great for us since Day One. He is having a great season and he came up huge for us during this very important weekend series, as he has done all season long," said Generals GM Bryan Erikson.
2nd Star: Alex Frye, F, Philadelphia Rebels
Honorable Mention (alphabetical): Andrew Bellant, F, Philadelphia Rebels – Colin Bilek, F, Northeast Generals
Midwest Division Star of the Week: Luke Radetic, forward, Kenai River Brown Bears
Among the NAHL scoring leaders is Kenai River Brown Bears forward Luke Radetic. The 20-year-old native of Chesterfield, Missouri, was a force this past weekend as his team not only snapped their losing streak, but also picked up a weekend home sweep of the Coulee Region Chill. Radetic (5'11/180) scored four goals in the two wins and was also a +2. That included a goal in Friday's 3-2 win and then on Saturday, Radetic added a hat-trick, including the game-winning goal in overtime as the Brown Bears picked up a 5-4 win in extra time. For the season, Radetic has 37 points and 20 goals, which both rank 4th among NAHL scoring leaders. "As an organization, we are very proud of Luke for his success over the weekend. He and his line mates were a spark for us this weekend and helped lead to a critical sweep of Coulee Region. Luke has continued to develop into a 200-foot player with great offensive instincts and hard work," said Brown Bears head coach Josh Petrich.
2nd Star: Tanner Polglaze, F, Janesville Jets
Honorable Mention (alphabetical): Caleb Hite, F, Fairbanks Ice Dogs – Markuss Komuls, D, Kenai River Brown Bears – Jakov Novak, F, Janesville Jets – Luke Orysiuk, D, Fairbanks Ice Dogs – Jeff Skinner, F, Springfield Jr. Blues – Ethan Stewart, F, Springfield Jr. Blues – Connor Szmul, F, Coulee Region Chill
South Division Star of the Week: Cam Cook, forward, Shreveport Mudbugs
Thanks to two more wins this past weekend over the Topeka RoadRunners, the Shreveport Mudbugs added to their league-best record of 26-5-5. Forward Cam Cook, 20, took over the team scoring lead with a huge weekend as the native of Rochester, New York, scored three goals and was a +3 in the weekend sweep. Both goals for Cook turned out to be the game-winners. On Friday, Cook (5'11/190) scored the game-winning goal in a 3-1 win and then on Saturday, he added two more goals, including another game-winner in another 3-1 win. For the season, Cook leads the Mudbugs in scoring with 29 points in 31 games played. "Cam is great competitor that is working hard everyday to get better. He is great leader on and off the ice and represents what Mudbugs Hockey is about," said Mudbugs head coach Karlis Zirnis.
2nd Star: Josh Deluca, F, Amarillo Bulls
Honorable Mention (alphabetical): Jared Domin, F, Amarillo Bulls – Gustavs Grigals, G, Shreveport Mudbugs