Saturday Scores: Mudbugs stay atop NAHL with sweep
January 14, 2018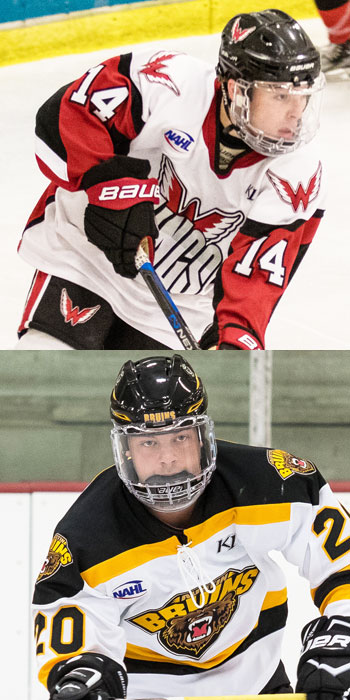 Topeka 1 @ Shreveport 3 - Cameron Cook scored two goals and Gustavs Grigals made 16 saves as the Mudbugs swept the Topeka RoadRunners. Jordan Fader added an empty netter to secure the win, it was his 10th of the season. Jeremy Gabriele scored the lone goal for Topeka and Emil Gransoe made 29 saves.
Springfield 4 @ Janesville 5 (OT) - Tanner Polglaze's overtime goal helped give the Jets their sweep of the Springfield Jr. Blues. Polglaze finished with a goal and an assist. Jakov Novak also scored and had a helper. Jack Vincent, Alec Semandel and Kip Hoffman all scored for Janesville. Garrett Nieto stopped 25 shots for the win in net. Spencer DenBeste scored two goals for Springfield while Ethan Stewart had a goal and an assist. Shane Haviland also scored in the loss.
Austin 2 @ Brookings 0 - Jaden Shields and Lane Krenzen scored the only goals of the game as the Bruins finished off the weekend sweep of the Brookings Blizzard. Alex Schilling was spectacular as he denied 33 Blizzard shots to grab his 12th win and second shutout of the season. Zachary Borgiel was stuck with the loss despite making 31 saves.
Bismarck 3 @ Aberdeen 4 (SO) - Joe Strada and Colton Fletcher scored in the shootout while Matt Vernon stopped both Bismarck shooters to give the Aberdeen Wings two points in the standings. Nathan Burke netted a shorthanded goal, his 20th of the season, and also tallied an assist in the victory. Strada picked up a goal in regulation as well as Jonathan Bendorf. Vernon only needed 14 saves but it was enough to get him his eighth win. Alex Pollock, Zach Van Sant and Lukas Millen all scored for the Bobcats while Jake Roberts made 24 saves.
Lone Star 2 @ Fairbanks 3 (SO) - The Fairbanks Ice Dogs extended their win streak to 10 with a shootout victory over the Lone Star Brahmas. Tyler Deweese scored the game deciding goal in the skills competition. Jake Willets and Caleb Hite visited the red light district in regulation for Fairbanks. Logan Neaton got the win in goal as he made 20 saves on 22 shots. Kyle Hallbauer and Austin Bottrell scored for Lone Star. Mitchell Gibson made 20 saves in the loss.
Coulee Region 4 @ Kenai River 5 (OT) - Luke Radetic's third goal of the night not only gave him the hat trick but it also gave his Brown Bears a 5-4 overtime win and a series sweep of the Coulee Region Chill. Filip Karlsson scored a goal and had three assists for Kenai River. Emils Ezitis scored and Gavin Enright made 24 saves. Connor Szmul had a goal and two assists while Tomas Vochozka, Gavin Holland and Jackson Decker all scored for Coulee. Josh Graziano was given the loss as he made 29 saves on 33 shots.
Northeast 1 @ Johnstown 4 - Roman Kraemer's three points led the Johnstown Tomahawks to a 4-1 victory over the Northeast Generals. Andy Nedljkovic scored a goal and had an assist while Ben Schmidling also scored in the victory for Johnstown. Jack Leavy picked up the win in net for the Tomahawks as he made 29 saves. Louis Boudon scored the only goal for the Generals. Patrick Harrington had the assist. David Fessenden stopped 28 shots for Northeast.
Wilkes-Barre/Scranton 1 @ Philadelphia 6 - The Philadelphia Rebels scored a statement win over the Wiles-Barre/Scranton Knights on Saturday. Alex Frye, Andrew Bellant, Aaron Maguyon and Ryan Patrick each had a goal and two assists. Jensen Zerban had a goal and an assist for Philadelphia while Kolby Vegara also scored. Ryan Keane got the win goal as he made 21 saves. Matt Kidney notched the only goal for the Knights.
Amarillo 5 @ Corpus Christi 4 (OT) - .It only took Jared Domin six seconds to net the game winner in overtime as the Bulls topped the IceRays 5-4. It was Domin's first goal as a Bull and he finished with three points on the night. Brendan Michaelian, Jason Brancheau, Josh Deluca and Trey Bagwell all found the back of the net for Amarillo. Jason Grande made 18 saves for the Bulls. Rylee St. Onge scored once and assisted on another for Corpus Christi. C.J. Regula, Angus Scott and Larry Jungwirth also score for the IceRays. Chad Veltri took the loss in net as he made 24 saves.
Minot 4 @ MN Wilderness 1 - Four different Minotauros found the back of the net and Jack Robbel made 32 saves as Minot took care of the Wilderness 4-1. Keenan Lund, Michael Talbot, Rykr Cole and Andrew Kangas all scored for Minot in the win. Ondrej Trejbal scored for Minnesota while Ryan Fanti and Jacob Sibell combined for 33 saves.