Bruins complete epic comeback to stun Blizzard in OT
January 11, 2018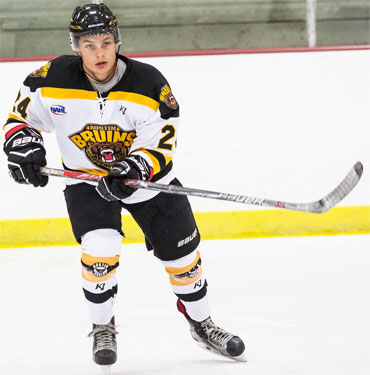 Austin Bruins 5 @ Brookings Blizzard 4 (OT) – In a midweek Central Division clash, the Austin Bruins pulled off a comeback for the ages as they erased a 4-0 deficit and defeated the Brookings Blizzard, 5-4 in overtime, scoring the last five goals of the game.
It was all Blizzard in the early going as goals from Derek Hammer and Vince Marino in the 1st period put the home side ahead, 2-0.
Early in the 2nd period, the Blizzard made it 4-0 with two more goals from Haiden Karnick and Josh Boyer, which chased Bruins starting goalie Mads Sogaard from the game in favor of Alex Schilling. That seemed to spark the Bruins, who mounted their comeback started with two goals from Garrett Dahm and Devin Fields later in the 2nd period to make it a 4-2 game after two periods.
In the 3rd period, Evan Cholak, who had a three-point night, scored early to make it a 4-3 game and Dante Zapata added his 3rd goal of the season later in the period to tie the game at 4-4 and send things to overtime.
Late in the overtime with the Bruins on the power play, Bruins defenseman Dan Petrick got the puck in the high slot and fired a shot over the glove of Blizzard goalie Benjamin Beck for the game-winner, completing the epic comeback.
Bruins forward Travis Kothenbeutel picked up two assists in the game and also because the Bruins all-time leading scorer in the process.
Schilling stopped all 18 shots he saw to pick up the win in relief, while Sogaard made 11 saves. Beck made 34 saves in the loss for the Blizzard.
The win moved the Bruins into 2nd place in the Central Division, within one point of 1st place Aberdeen.