Amarillo defenseman Michaelian makes NCAA DI commitment
January 10, 2018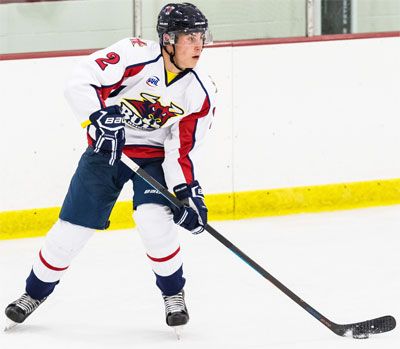 The NAHL's Amarillo Bulls have certainly had a great relationship with Robert Morris University over the past eight years in terms of moving players on to the next level. That relationship has sent Brady Ferguson, Tim Moore, Greg Gibson and John Rey on to the Atlantic Hockey school, and now a fifth player will continue the trend.
Amarillo Bulls second-year defenseman Brendon Michaelian, who hails from Wixom, Michigan, announced his NCAA Division I College Commitment to Robert Morris University.
"I know some of the old Amarillo Bulls that are playing for the school and they have done nothing but great things there," Michaelian said. "I'm just hoping to add to the track record. It will also be great to play in Atlantic hockey against some of my former teammates. I'm sure that will be a bit different and take a little bit to get use to."
Michaelian is having an excellent season for the Bulls with 2 goals and 22 assists for 24 points in 31 games. His 22 assists are tied for first among all defenseman and his 13 power play assists rank him second overall in the league. Last year in 56 games, Michaelian had three goals and 11 assists for 14 points.
"I'm excited and honored to play NCAA Division I hockey," Michaelian said. "It's always been a dream of mine and I'm happy that it came true. I'm looking forward to finishing the year in Amarillo and see what happens. I want to thank my family, friends, teammates and coaches for all they have done."
Robert Morris University is located in Pittsburgh, PA near the major downtown area. Michaelian said the proximity and the campus played a large part in his decision.
"The campus is nice and it's close to downtown Pittsburgh," he said. "The opportunity that the RMU coaches have given me is just second to none and very hard to pass up. My family and friends and I are very close knit, and to be able to be closer to home and perhaps head back to Michigan on an off weekend is also an added bonus."
Bulls Head Coach Rocky Russo is thrilled for Michaelian and knows that RMU will be getting a great player and person. "We are very proud of Brendan for his commitment to Robert Morris," Russo said. "He has worked extremely hard both on and off the ice for his opportunity and definitely deserves it. Coach (Derek) Schooley and his staff are getting a very good hockey player, but an even better person. He will be a tremendous addition to the hockey program and the University."
Brendan Michaelian becomes the seventh Bulls player that is committed overall joining Jason Brancheau (Ferris State), Brandon Bussi (St. Lawrence), Billy Duma (Air Force Academy), Luke Edgerton (Niagara University), Anthony Firriolo (Colorado College), Brendan Furry (Niagara University).