Mudbugs edge IceRays in shootout on Tuesday night
January 3, 2018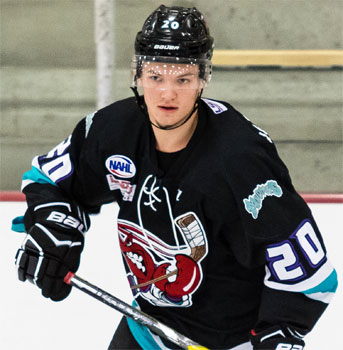 Corpus Christi 5 @ Shreveport 6 (SO) - Roberts Baranovskis, Shreveport's fourth option, scored the only goal in a shootout to help the Mudbugs defeat the Corpus Christi IceRays, 6-5, on George's Pond at Hirsch Coliseum on Tuesday. Corpus Christi erased three separate Mudbugs leads Tuesday -- two were two-goal advantages.
With the win, Shreveport improved to a North American Hockey League-best 24-5-5 and increased its lead in the South Division to 12 points over Odessa.
Shreveport's Ryan Burnett sparked a wild session of regulation hockey with a goal just 3:48 into the game. Cameron Cook's 11th goal of the season made it 2-0 with 6:44 left in the first period. Corpus Christi tied the game with a goal from Matt Acciaioli late in the opening period and another 47 seconds into the second period by Brendan Miller.
It wasn't long before Shreveport struck again with a nifty tally from Brendan VanSweden. Only 34 seconds later, the lead was again two goals when Jay Feiwell found the net.
The IceRays didn't give in this time, either.
A pair of second-period goals from Rylee St. Onge made it 4-4, but Jordan Fader's tally with 1:49 left in the period sent the Mudbugs to the final period with another lead.
With 6:32 remaining in regulation, Noah Roofe tied the game at 5-5.
Gustavs Grigals allowed five goals on 26 shots in his first start for the Mudbugs since November 25, but collected his 11th victory of the season. Jake Action took the shootout loss for the IceRays, making 37 saves. (Story by Roy Lang III)