West Report: Brown Bears focus on postseason berth
January 28, 2011
by Brian McDonough | NAHL.com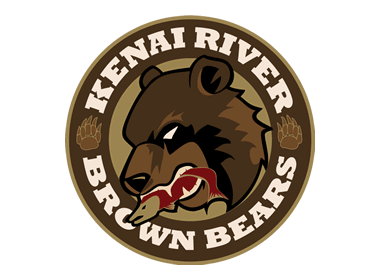 While enjoying by far the best season in the team's three-year history, the Kenai River Brown Bears are still working towards reaching their potential - and the playoffs.

With 44 points heading into the weekend, the Brown Bears hold the fourth and final postseason spot in the division over Dawson Creek and Fresno, but, with two months still lingering on the schedule, there's no room for complacency.

"If we're going to reach new heights, we know we can't be satisfied with our accomplishments to this point," said Brown Bears head coach Oliver David, whose team holds a 20-17-4 record. "We have a lot of work to do to make the playoffs in this division."

Prior to this weekend's three-game series in Fresno - the Brown Bears won the first tilt, 4-2, on Wednesday - Kenai River finished with a 1-1-1 mark in Dawson Creek.

It wasn't the outcome David was looking for from a team still fighting for their postseason lives.

"Let's be honest, if an acceptable result was 1-1-1 after a three-game series while in a playoff race, we'd have some reevaluating to do," said the coach. "The bottom line is we need to want to achieve better results."

Despite Kenai's marginal showing against the Rage, first-year forward Alex Frere had one of his better weekends of the season. The 18-year-old from Novi, Mich., came through with four goals and an assist in the three games, including a hat trick in a series-opening 7-6 win last Friday.

"He's one of our most promising rookies," David said.

As is defenseman Ryan Walker, a NAHL Top Prospects Tournament selection who's evolving into one of the Brown Bears' top rearguards. In 33 games, the 18-year-old from Southfield, Mich., has four goals for 10 points.

"He's missed some games because of injury, but, when he's in the lineup, he's very stable, yet, at the same time, confident enough to take chances," said David. "I like that about him."

Of the veterans, Brett Lubanski, the team's captain, keeps on delivering with consistency. The 19-year-old forward from Farmington Hills, Mich., is averaging nearly a point a game (40) through 41.

"He continues to be effective in all situations for us," said David.

And the Brown Bears are going to need even more offensive production from him and top-scoring forwards Doug Beck and Brad Duwe, along with secondary scoring from forwards Sean Muller, Matt Thompson, Kyle Keenan and Bobby Murphy.

"Those guys all have the potential to provide more, and we'll need it," said David.

A few recent additions on the blue line are also expected to bolter the Brown Bears' run at their first-ever postseason appearance. Brandon Fisher returned to the team from the United States Hockey League, and Alec Theida was acquired in a trade with Texas.

"Brandon's been a great addition," said David. "And we expect big things from Alec. He's veteran and a great kid. You can never have enough great kids with leadership qualities."

The Brown Bears, who play two more games in Fresno on Friday and Saturday before returning home to take on division-leading Fairbanks for two games next weekend, know full well the task at hand. Now it's a matter of execution.

"We're being chased from behind and it's a close enough race where we aren't comfortable with where we're at," said David. "What we need to learn is how to deal with the pressure. If we deal with it well, we could earn a spot in the playoffs.

"We have a saying: 'Equal is not fair.' At this point in the season, we have to compete to win; there's no other focus other than to advance (to the postseason)."

WEST DIVISION NOTEBOOK

ALASKA AVALANCHE: Micki Mahailovich, a defenseman who played for the Avalanche last season, has committed to the University of Massachusetts-Lowell. With last weekend off, second-place Alaska traveled to Dawson Creek for a three-game series that began on Thursday (a 3-2 shootout loss).

DAWSON CREEK RAGE: Forward Dakota Mason picked up two goals and four assists as the Rage went 1-1-1 against Kenai River. The 18-year-old from Edmonton has points in his last five games (four goals, five assists) and leads the team in scoring with 36 points (20 goals) in 38 games. Dawson Creek, which plays its next five games at home, welcomed Alaska to town for a three-game series that began on Thursday (a 3-2 shootout win).

FAIRBANKS ICE DOGS: Tayler Munson, 17, connected for two goals and seven assists in the Ice Dogs' three-game sweep over Texas. The University of Alaska-Fairbanks recruit was also a plus-6 on the weekend. Winners of five straight games, the division-leading Ice Dogs have this weekend off before traveling to Kenai River for a pair of games on Feb. 4-5.

FRESNO MONSTERS: Forward TJ Powers came through with two goals and assisted on Walker Hyland's game-winning marker in the Monsters' 4-3 victory over Wenatchee on Friday. In his first eight games with the team, the 19-year-old from East Greenwich, R.I. has five goals and two assists. This week, Fresno hosts Kenai River for a three-game series that began on Wednesday (a 4-2 loss).

WENATCHEE WILD: Goaltender Brandon Jaeger stopped all 15 shots he faces in the Wild's 4-0 victory over Fresno on Saturday, marking his third shutout of the season. Forwards Tyler Hope (two assists), Eliot Grauer (two goals) and Ben Carey (goal, assist) each picked up two points in the win. Wenatchee hosts Texas for a pair of games this weekend starting on Friday.