Bulls spread holiday cheer at local hospitals
December 14, 2017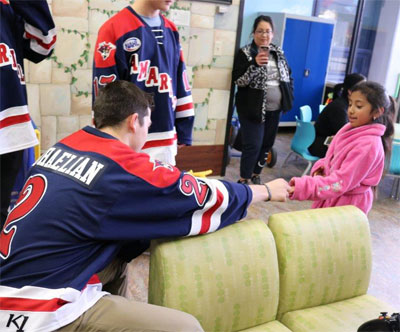 This is the special time of the year to think of others who may not get an opportunity to have a festive and joyous holiday season. That's why the NAHL's Amarillo Bulls have continued on their tradition of visiting area children in the hospitals.
Since joining the NAHL back in 2010, the Bulls organization has been one of the league's best in community outreach.
Six current Bulls players decked out in their new jerseys along with the Bulls Coaches and Front Office Staff visited the children's hospital unit and the rehabilitation floor at BSA Hospital as well as The Children's Hospital at Northwest Texas Healthcare System.
The Bulls players sang Christmas Carols and handed out treats to the patients and hockey tickets to the staff.
"We want to thank both hospitals for inviting us over during this special time of the year," said Bulls Director of Broadcasting and Media Relations Denis J. Puska. "We hope we were able to brighten up everyone's day and give them something to think about and remember during the holiday season."
Next up for the Amarillo Bulls is the annual Christmas Party taking place tonight in the Grand Plaza at the Amarillo Civic Center. Dinner is provided by Aspen Creek Grill, and there will be many prizes to give away, games, speeches and Christmas Carols by the players.