Lone Star forward Linden makes NCAA DI commitment
December 13, 2017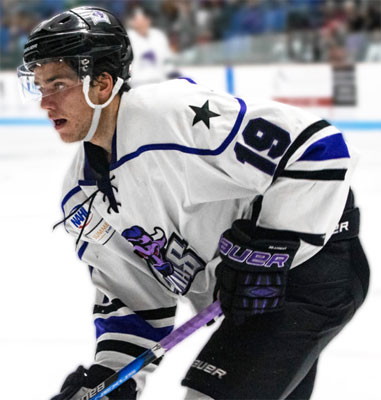 The Lone Star Brahmas of the North American Hockey League (NAHL) are pleased to announce that forward Ture Linden has committed to play NCAA Division I hockey for Rensselaer Polytechnic Institute (RPI) for the 2018-19 season.
"RPI has actually always been a dream school for me," Linden said. "It's one of those schools that I had circled right when I started learning about college hockey with the high-end academics and the culture of the hockey team, so it's just a really good fit."
"I just knew after touring the campus and seeing the rink and meeting some of the players and coaches that it was the right fit, and I knew it right away. It was an easy decision because of that. Loved the rink, loved the coaches, loved the guys that I met," Linden said.
The 20-year-old native of Great Falls, Virginia, came to the Brahmas from the OJHL, where he put up 30 goals and 35 assists in 60 games split between the Trenton Golden Hawks and the North York Rangers. Versatile and skilled, it was no wonder that the Brahmas coaching staff was eager to ink the 6'0/180 lbs. forward to a tender contract.
"The recruiting process was a little bit stressful at times, but this week there's a lot of weight off my shoulders. I started [my junior hockey career] in Canada last year in the OJHL and had a great time up there and had a good year putting up some points and really getting my name out there and I think starting in the USHL and coming here, I really proved myself to colleges that were kind of on the bubble," Linden said. "And being able to produce in the NAHL and playing in Coach Wildfong's system pushed them over the edge and I started to get some serious interest."
"We're really happy for Ture. Obviously it's nice to see him get committed here pretty early in the season," Head Coach Dan Wildfong said. "He has a lot of skill. He still has to work on a few things, but he's definitely a guy who can jump in and play Division I and we're happy for him."
An all-situations player who logs time on both special teams units in addition to playing heavy minutes at even strength, Linden has been a key cog for the Brahmas and will continue to be so in the latter half of the season.
So far he's registered six goals and ten assists in 21 games for Lone Star this season and has been one of the few forwards producing during a cold spell for the team.
"I think he learned to play a little bit more of a two way game [here with the Brahmas]. He has the skill to play in college right now, but he has to use that ability to work hard with his skill and he's been trending in the direction we want him to be," Wildfong said.
For his part, Linden is glad to be finished with the recruiting process and is excited to know where he'll be playing hockey next year. "I just want to thank all my teammates and coaches and of course my family for helping me get here," he said. "I've been on the phone a lot with my parents the last couple of weeks and they were very supportive of my decision and wanted me to pick whatever decision I felt was right for me. They've supported me so much along the way and were obviously so excited when I committed. It's going to be so awesome celebrating with them in a few weeks when I'm home for Christmas break."
Linden will be heading to RPI next fall, where he looks forward to getting his college career started, both on the ice and off. "RPI is a really good engineering school and a lot of the hockey guys are studying business so those are actually the two things I'm interested in. I'll have to make a decision between the two and it could go either way, to be honest."
Before that, though, Linden will be a crucial part of the Brahmas' second half as they continue their push to defend the NAHL title.