Jackalopes roll to three-game sweep on Sunday
December 11, 2017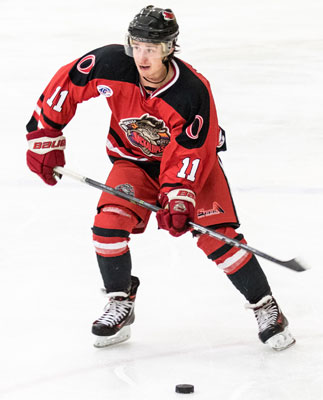 Odessa Jackalopes 4 @ Topeka RoadRunners 0 - Rune Kirby netted his first goal of the season on top of Alex Camarre's second shutout of the year as the Odessa Jackalopes shutout the Topeka RoadRunners, 4-0, which completed a three-game road sweep. The Jackalopes victory came at the hand of four goals to break it open in the second period.
After a scoreless first period, with the shots even at 11, the Jackalopes broke through at the 5:11 mark of the second period while on the power play. Zac Herrmann saw an open lane and a scrambling Emil Gransoe, and with the net-front presence, Ricky Carballo tipped it past Gransoe and in for the 1-0 lead.
Briefly after the media timeout in the period, Rune Kirby skated up the left side and one he hit the faceoff circle, fired one off past Gransoe for the 2-0 lead. Within the next 3 minutes and 52 seconds, the Jackalopes would net two more. Dylan Johnson crashed the net for a weak-side tip-in before Zach Heintz sniped one high-glove side for the four-goal lead at the end of the second.
Another scoreless period in the third gave the Jackalopes a weekend sweep. Camarre finished the night perfect with 27 saves, while Gransoe fended off 33 of his own in the loss. The Jackalopes are now on a seven game point-streak, having won six of those seven.