December 7, 2017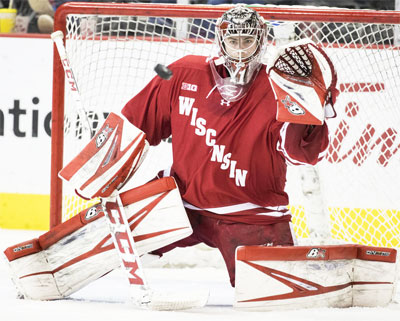 Atlantic Hockey Goalie of the Month: Paul Berrafato, Holy Cross (Amarillo Bulls)
Paul Berrafato started all nine November games for Holy Cross, leading the Crusaders to a 2-3-4 record. He was 2-1-3 in Atlantic Hockey contests, helping Holy Cross move into third in the Atlantic Hockey standings. He led all Atlantic Hockey goalies in minutes played (556:41), goals against average (2.37), and save percentage (0.918). Berrafato played six games against league foes, all coming against teams who went to Rochester last season, Robert Morris, Air Force, and Army West Point. The senior goalie posted two shutouts, one against Air Force and one against Army, which accounted for his two November wins. He posted 25-plus saves in seven games, including the final three games against non-conference opponents.
Atlantic Hockey Player of the Week: Tanner Lomsnes, Niagara (Corpus Christi Ice Rays)
Tanner Lomsnes scored four points in two games last weekend, including a point on both game-winning goals, as the Niagara Purple Eagles earned a road sweep over Air Force. The junior was one of three Purple Eagles with three points in a 6-3 win on Dec. 1, tallying one goal and two assists, including the set-up assist on Johnny Curran's game-winning goal. Lomsnes followed that effort up with a game-winning goal and a plus-3 rating in Niagara's 5-2 win on Dec. 2.
B1G Hockey Third Star: Jack Berry, Wisconsin (New Jersey Titans)
Berry turned aside 49 of 51 shots faced for a .961 save percentage to help the Badgers split the weekend against No. 7/7 Minnesota. He stopped 40 of 42 shots faced to backstop Wisconsin to 3-2 victory on Saturday, including a penalty shot in the first period and 20 Minnesota shots in the final frame. Berry improved to 3-1-0 on the season with a 1.95 goals-against average, .919 save percentage and one shutout in five appearances. This is his second career weekly award and first of the season.
ECAC Goaltender of the Month: Jake Kielly, Clarkson (Austin Bruins)
A native of Eden Prairie, MN, Kielly posted a perfect 8-0-0 record in the Clarkson crease during the month, including six straight victories on the road. He led the conference in wins, goals against average (1.25), save percentage (.948) and shutouts (3). During his two-year career with the Green and Gold, Kielly is unbeaten in November, going 12-0-2.
WCHA Offensive Player of the Month: Mitch Maloney, Ferris State (Port Huron Fighting Falcons)
There was no more potent goal-scorer in the WCHA – and nearly nationally – in November than Maloney, who lit the lamp nine times in eight games. The senior from Macomb, Mich. scored three more goals than other WCHA skater last month, while matching Clarkson's Josh Dickinson for the most in the country. He also tallied an assist for a WCHA-best 10 points, while tying for second in the league with a plus-7 rating. Maloney tallied a goal in seven of Ferris State's eight games last month, helping the Bulldogs to a 3-1-0-0 league record and an overall 4-4-0 mark. He capped the month as the WCHA Offensive Player of the Week (and NCAA "Second Star") following a four-goal series at Alabama Huntsville, including a natural hat trick in a 6-2 victory Nov. 24 – the first by a Bulldog since Jan. 5, 2013. Maloney also notched the third-period, tying goal in a 3-2 overtime win at Michigan on Nov. 3. His eight even-strength goals last month were the most by any D-I skater. With 12 goals this season, Maloney is now tied with Northern Michigan's Robbie Payne for the overall WCHA lead (good for third-most nationally). The dozen scores also match Maloney's single-season career high, with 20 games remaining on Ferris State's regular season schedule. This is Maloney's first career WCHA monthly award.
WCHA Goaltender of the Month: Ryan Bednard, Bowling Green (Johnstown Tomahawks)
One of the WCHA's top goaltenders all season and among the best nationally in 2017-18, Bednard put together an excellent November as Bowling Green climbed up the league standings. The sophomore was undefeated in six games (four starts), going 2-0-2 and leading the WCHA with both a 1.67 goals-against average and .937 save percentage. Bednard's terrific month began with an extended effort in a 2-2 tie Nov. 4 at Michigan Tech. After making 27 saves through 65 minutes, he made crucial stops in the 3-on-3 overtime and a six-round shootout as the Falcons earned an extra league point. On Nov. 17 at Minnesota State, Bednard backstopped BGSU to a 4-1 win over the fifth-ranked Mavericks with 20 stops. He also made 29 saves – and tallied an assist – in a 5-2 victory over Lake Superior State (Nov. 11), while he turned aside 23-of-25 shots in a 2-2 tie with Miami (Nov. 25). The Macomb, Mich. native and Florida Panthers prospect enters December ranked ninth nationally with an overall .929 save percentage and 10th with a 1.92 GAA – both tops in the WCHA. This is Bednard's first career WCHA monthly award.
WCHA Goaltender of the Week: Justin Kapelmaster, Ferris State (Wichita Falls Wildcats)
Kapelmaster led the WCHA with two wins, a 1.00 goals-against average, a .961 save percentage (49-for-51) and one shutout, backstopping Ferris State to a sweep of visiting Alaska Anchorage. The sophomore from Coral Springs, Fla. made 22 saves in a 2-0 victory Friday for his first shutout of the season and his third career clean sheet. He then made 27 stops in a 5-2 triumph Saturday, while stopping all 10 shots faced in the third period as the Bulldogs snapped a 2-2 tie with three goals over the final 20 minutes. With the wins, Kapelmaster and Ferris State have won four-straight home WCHA games. This is Kapelmaster's second WCHA weekly award of the 2017-18 campaign and his fifth career honor (he earned two Rookie of the Week accolades and one Defensive Player of the Week nod last season).
WCHA Rookie of the Week: Eric Dop, Bowling Green (Minot Minotauros)
Dop once again turned in an excellent performance in a WCHA series opener, stopping 24-of-25 shots as Bowling Green defeated visiting Bemidji State, 3-1 last Friday. The freshman from Lewis Center, Ohio stopped all 15 shots he faced over the first two periods, then made nine saves in the decisive third frame. After fellow rookie Niko Coffman put the Falcons ahead, 2-1 with 1:12 remaining in regulation, Dop made several big stops facing an extra Beavers attacker to help prevent overtime. With the series-opening win, Bowling Green moved atop the WCHA standings. This is Dop's third WCHA weekly award of his freshman campaign, all following wins over league opponents.
Former Austin Bruins defenseman
Christian Folin
enjoying time with NHL's LA Kings (
read
)
Former NAHL forward
Levi Wunder
living out his team with Alabama-Huntsville (
read
)