Brookings forward Denyskin to represent country at World Juniors
December 5, 2017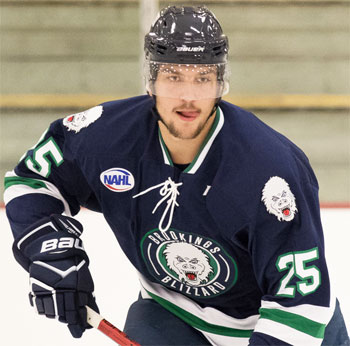 The Brookings Blizzard of the NAHL are pleased to announce that forward Andriy Denyskin has been chosen by his country of Ukraine to play in the 2018 IIHF Ice Hockey U20 World Championship Division I Group B taking place in Bled, Slovenia from December 9th to the 15th.
Ukraine will be competing in Group B against Italy, Lithuania, Norway, Poland, and Slovenia. Denyskin, 19, is off to a great start for the Blizzard this year. He's currently 4th on the team in scoring with 17 points (12 goals, 5 assists).
The 6'5/220 lbs native of Kiev, Ukraine, also played for his come country in last year's Division I Group B World Junior Championships, where he recorded four points in five games played.
"I'm very happy for Andrei being able to represent his country in this IIHF World Tournament. As a former USA Olympian it's a very humbling experience to be selected to play for your country. Andrei has played well this year, and it's nice to see Ukraine recognize Andrei for what he can bring to the team. I wish Andrei the best in what should be a very memorable opportunity," said Blizzard head coach Moe Mantha.