Beauty Status Flow of the Month continues with Movember winner
December 4, 2017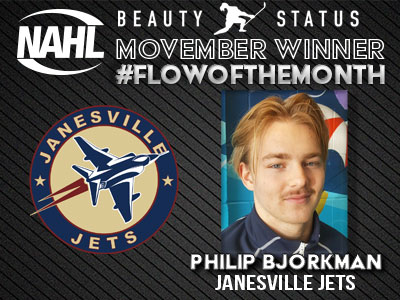 The greatest time of year for flow enthusiasts comes early every year in November, or Movember, as we call it in the hockey world.
With three months gone into the season, not only to players get to show off their sweet salad they have been sprouting for close to 100 days, but they also get to add the 'mo,' the 'muzzy,' the 'caterpillar' known as a mustache for Movember.
Our new partner this season for Flow of the Month is Beauty Status Hockey Co. On September 13th, Beauty Status was named as the Official Hockey Apparel Company of the NAHL for the 2017-18 season.
Players in the NAHL and NA3HL were encouraged to submit photos of their best 'hockey hair' or 'flow' via social media or email by the end of the month.
The winner for Movember is Janesville Jets defenseman Philip Bjorkman.
Bjorkman, 18, is in his first season playing in the NAHL for the Jets. The 6'0/185 lbs. native of Stockholm, Sweden has appeared in 21 games to date and recorded three assists to go along with a +4 rating. Prior to playing in the United States, Bjorkman played junior hockey in Sweden for Djurgardens.
In order to win Flow of the Month, Bjorkman did a great job of following the rules for Movember. First, he has some great flow up top. It has a nice strawberry blonde wave and length to it. The front parts split his salad into two equal wonderful waves that give him some feathered fun. Then for Movember we have Bjorkman's muzzy, which is a thin line of greatness. It may have taken the full 30 days for it to grow and be somewhat transparent, but we applaud the effort.
Beauty Status Hockey Co. is the exclusive sponsor of the Flow of the Month promotion exclusively on the NAHL and Beauty Status Twitter sites @NAHLHockey and @BeautyStatusHky
Players in the NAHL and NA3HL are encouraged to submit photos of their best 'hockey hair' or 'flow' via Twitter by the end of every month during the regular season.
To enter the contest for the month of December, submit your best #FlowoftheMonth pictures by December 31st to @NAHLHockey and @BeautyStatusHky. Two winners will be selected by January 1st. Winners will receive a Beauty Status hat.