West Report: Avalanche embrace winning chemistry
January 20, 2011
by Brian McDonough | NAHL.com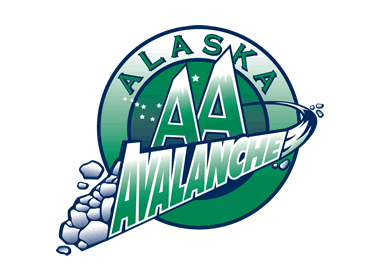 While the season is far from over, the Alaska Avalanche still finds itself perched atop the West Division standings with a little more than two months left on the schedule.

But the Avs have been hit or miss since the holiday break, going 4-3 during a stretch that's had its share of pluses and minuses.

"I think we've competed fairly well, but we're still lacking some execution and playmaking," said Avalanche head coach Brian Huebel, whose team split two games in Fairbanks last weekend. "We're scoring some goals, but we also have a tendency to have some put up on us as well."

The Avs have far from a stranglehold on the West. Its 51 points are one more than the second-place Ice Dogs. Fairbanks, however, has five games in hand over Alaska and third-place Wenatchee (46 points) has four in hand.

Math aside, Huebel's charges are relishing the ride as they vie for supremacy in division.

"I like the mood of our team and I feel our chemistry is close to outstanding," said the coach. "We're definitely a loose bunch and enjoy the team atmosphere."

A few players have keyed Alaska's recent success, among them goaltender Landon Peterson. The 20-year-old from Oregon, Wis., has won his last five starts and his 20 victories on the season are tied for the lead among NAHL netminders.

Offensively, forward Blake Huppert has been impressive, racking up four goals and four assists since the break. The 20-year-old from Wasilla, Alaska, has 34 points (12 goals) through 37 games.

"Landon has stepped up and played big for us after the break," said Huebel. "And Blake continues to be one of our top guys; we rely on him in all situations."

The Avs' captain, forward Zack Smith, has also picked up his play late, according to Huebel, while forwards Grant Dye and Derek Whitehill have brought plenty of energy to the lineup on a nightly basis.

Forward Matthew Friese, who rejoined the team in November, has been a difference-maker.

"He seems, in one way or another, to impact hockey games and force teams to recognize when he's on the ice," said Huebel. "He has the ability to change games with his speed."

Defensively, the Avalanche continues to rely on the solid, proven play of Jake Williams and Dan Senkbeil, while a couple of younger blueliners - Buzz Tryggeseth and Casey Nelson, two 18-year-olds in their first seasons with that Avs - have both come into their own.

"They've now become accustomed to the game and are beginning to have more of an impact with their play," said Huebel.

Forward Wehebe Darge also earned the praise of Huebel, as did forward Connor Wright, who was acquired recently from Kenai River.

"Connor brings a lot of assets to our team," said Huebel. "We're looking for him to contribute and step up as well."

But, if the Avalanche, which has this weekend off before playing three games in Dawson Creek to close out January, expects to contend for a West Division title come March, Huebel says it's going to take a total team effort.

"Some of our younger players also have to step up," said the coach. "I think, with our team, we need to be consistent with who we are and how we need to play.

"We just need to understand our identity and make sure we're committed to playing that way night in and night out."
WEST DIVISION NOTEBOOK

DAWSON CREEK RAGE: The Rage split a two-game series in Chicago last weekend, with its win coming on Sunday (5-2). Three players collected three points in the victory, including 19-year-old newcomer Zach Ashdown, a Campbell River, British Columbia, product who tallied the game-winning goal and an assist. Dawson Creek, which plays its next eight games at home, hosts Kenai River for a three-game set beginning on Friday.

FAIRBANKS ICE DOGS: Forward Gabe Levin, 19, picked up four assists, including three on JT Osborn's hat trick performance, in the Ice Dogs' 6-5 victory over Alaska on Friday. Levin, a Marina del Rey, Calif., native and graduate of the North American Prospects Hockey League, has 12 goals for 33 points in 34 games this season. Fairbanks welcomes Texas to town this weekend for three games beginning on Thursday.

FRESNO MONSTERS: Fresno picked up a point in three games in Texas last week, dropping two to the Tornado (one in overtime) and one to the Wildcats. Forward Matt Coleman, 19, rang up two goals and an assist for the Monsters. In his first nine games with the team, the Brentwood, N.Y., native has four goals and four assists. The Monsters host Wenatchee this weekend for a two-game set beginning on Friday.

KENAI RIVER BROWN BEARS: Forward Sean Muller, 20, came up with two big points in two Brown Bear wins in Wenatchee last weekend: an assist on Bobby Murphy's game-winning goal in a 3-2 victory on Thursday and the game-wining marker in a 5-3 triumph on Friday. "Sean's a crafty, quick centerman," head coach Oliver David said of the Anchorage native. "He competes hard and has shown each weekend he can finish."

WENATCHEE WILD: Despite the Wild picking up only one win in three games against Kenai River last weekend, forward Shawn Pauly, 18, connected for a goal and four assists. The Air Force Academy recruit from Bellingham, Wash., was also a plus-3. Pauly has 19 points (six goals) through 26 games this season. This weekend, the Wild heads to Fresno for a two-game series on Friday and Saturday.