November 30, 2017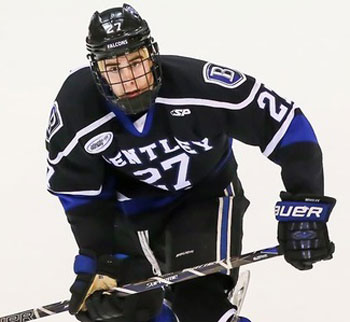 NCAA Hockey #1 Star: Jake Kielly, Clarkson (Austin Bruins)
The sophomore netminder was the Friendship Four Most Outstanding Player after leading Clarkson to the tournament title in Belfast, Ireland. In a 2-0 semifinal victory over Rensselaer, the Eden Prairie, Minnesota native made 22 saves to register his fifth shutout of the season. In the championship game, he made 20 saves to lead the Golden Knights to a 4-2 win against Providence. On the season, he has a 1.44 goals-against average, which is best in the nation, while posting a .947 save percentage. Related: College Hockey News profiles the rise of Clarkson behind Kielly (
read
)
Atlantic Hockey Player of the Week: Drew Callin, Bentley (Janesville Jets)
Callin had two goals and an assist as Bentley swept a home series with Robert Morris last weekend. He had both of the game-winning goals, scoring a power-play goal to give Bentley a 2-0 lead in Friday's 3-1 win and then broke a 3-3 tie with a goal at 10:58 in the 3rd period of Saturday's 6-3 victory. He was +2 for the weekend and also went 23-34 in the face-off circle.
Atlantic Hockey Defensive Player of the Week: Jonathan Kopacka, Air Force (Port Huron Fighting Falcons)
Kopacka notched three points in the Sacred Heart series, posting two goals and an assist. He had a goal and an assist in Air Force's 3-3 tie on Saturday, then had a shorthanded goal in Sunday's victory. At the time of his shorthanded goal, Air Force was trailing 2-0, sparking a run of five unanswered goals. Kopacka was plus-3 and blocked four shots in the series.
Atlantic Hockey Rookie of the Week: Marc Johnstone, Sacred Heart (Kenai River Brown Bears)
In three games for Sacred Heart last week, Marc Johnstone scored three goals and helped the Pioneers earn two conference points against Army West Point and Air Force. He scored a goal in a 5-5 tie against Army on Tuesday, then, in the series opener against Air Force on Saturday, Johnstone had the first multi-goal game of his young career. He scored a shorthanded goal and then buried the game-tying goal with 22 seconds remaining in the third period of a 3-3 tie. Johnstone led the team with three goals this past week as well as a plus three rating.
ECAC Hockey Goalie of the Week: Jake Kupsky, Union College (Lone Star Brahmas)
After a dominant performance on the road at then-No. 3 ranked North Dakota, junior Jake Kupsky was named ECAC Hockey's Goaltender of the Week, the league announced Tuesday. The Waukesha, WI, native helped Union earn a win and a tie on the road against the Fighting Hawks, making 64 saves for a .955 save percentage and a 1.44 goals-against average over the two games. In Friday's contest, Kupsky turned aside 37 shots to help Union claim its second win over a nationally-ranked opponent this season with a 4-1 decision against North Dakota. He then stopped 27-of-29 the following night as North Dakota battled back to force a 2-2 tie. With the undefeated weekend, Kupsky is now 2-0-1 in his last three starts, helping Union go undefeated in nine of its last 10 games. The weekly award is the first for the junior goalie of the season, and is the second for the Dutchmen after Ryan Scarfo was named Player of the Week on Oct. 24.
Hockey East Player of the Week: Ryan Wischow, UMass (Michigan Warriors)
Ryan Wischow earned two wins in a home-and-home sweep of Quinnipiac, UMass's first series sweep since 2015. The sophomore netminder stopped 79 shots across two games to post 2.00/.952 numbers, including 47 saves in Saturday's 6-3 win against the Bobcats. He is now 4-1-0 on the year and sits fourth among league goaltenders in overall save percentage (.920).
NCHC Offensive Player of the Week: Zach Jordan, Nebraska-Omaha (Minnesota Wilderness)
Jordan had one of the best weekends of his career, chipping in a team-best three points to lead Omaha to a sweep of Northern Michigan. In Friday's 4-3 victory, he scored the Mavericks' third goal to break a tie and put UNO up for good 3-2 in the second period, while also posting a +1 plus-minus and blocking a shot. The next night he logged his first career multi-point game with a goal and an assist. Jordan had the primary assist on Luke Nogard's game-winning goal early in the first period, while capping Omaha's scoring outburst with a breakaway goal in the second period to make it 4-0 in an eventual 4-1 win. He was again +1 and earned First Star of the Game honors Saturday. For the series, Jordan finished with two goals -- his first time tallying in back-to-back games for Omaha -- an assist, a +2 plus-minus and three shots on goal. He nearly doubled his career point total on the weekend, entering the series with four career points.
NCHC Rookie of the Week: Ben Lown, Miami (Ohio) (Wichita Falls Wildcats)
Lown had the best weekend of his young career, nearly doubling his career total of three points entering the series, as he tallied two points in a 6-3 win over Bowling Green on Friday. He scored his first career goal 6:15 into the first period to put Miami in front 1-0, while he also handed out the primary assist on Josh Melnick's goal that made it 3-1 Miami early in the second period. It was his first career multi-point game on Friday, as well, when he was +1 playing on the top line. In Saturday's 2-2 tie, Lown fired a shot on goal and had an even rating, as he finished the weekend with a goal, an assist, +1 and two shots on goal, while also blocking three shots in the two games.
NCHC Goaltender of the Week: Hunter Shepard, Minnesota-Duluth (Bismarck Bobcats)
In Minnesota Duluth's only game of the weekend, Shepard made his 10th consecutive start, backstopping the Bulldogs to a 3-1 win over rival No. 8 Minnesota State on Saturday in Duluth. He compiled a season-high 33 saves in the win, the most by a Bulldog goalie this year, including 13 saves in the third period as UMD was outshot, 13-6. Shepard also helped the Bulldogs kill off all three Maverick power plays in the win. He finished the game with a 1.01 goals-against average, while posting a .971 save percentage, which upped his season save percentage from .894 to .903.
WCHA Offensive Player of the Week: Mitch Maloney, Ferris State (Port Huron Fighting Falcons)
Maloney led the country last week with four goals and five points, helping Ferris State to a WCHA road split at Alabama Huntsville. The senior from Macomb, Mich. had a natural hat trick in the Bulldogs' 6-2 victory Friday night, scoring three times in a 12-minute span of the third period. He became the first Bulldog with a hat trick since January 5, 2013, while he also assisted on the game-winning marker in that contest (factoring in the final four of six-straight Ferris State goals). Maloney's fourth goal of the weekend gave the Bulldogs a 3-2 lead late in the second period Saturday, as he finished the weekend with 10 shots on goal and a plus-2 rating. He is now tied for the WCHA lead (and tied for third nationally) with 12 goals – a total that already matches his single-season career high, with 20 regular season games remaining. This is Maloney's first career WCHA weekly award.
WCHA Goaltender of the Week: Packy Munson, Michigan Tech (Fairbanks Ice Dogs)
Munson made a WCHA-best 73 saves last weekend, helping Michigan Tech to a road sweep at Alaska, despite being outshot 78-65. The junior from Hugo, Minn. made 39 saves in a 5-4 overtime win Friday, then stopped 34-of-35 shots in a 5-1 victory Saturday (including 52:50 of shutout hockey). His save total ranked seventh nationally last week, while he was second in the WCHA with a .936 save percentage and 2.42 goals-against average. This is the first WCHA weekly award for Munson, who is in his first season in the league.
WCHA Rookie of the Week: Charlie Combs, Bemidji State (Amarillo Bulls)
Combs collected the first multi-goal game of his career, including the game-winner, as Bemidji State earned a 5-3, nonconference road win last Wednesday at Princeton. The freshman from St. Louis, Mo. tied the contest at 1-1 just 3:49 into the first period, then put the Beavers ahead, 4-2, at the 4:25 mark of the second period. The only WCHA rookie with two goals last week, Combs was tied for second nationally among first-year skaters. He finished the series with seven shots on goal and a plus-2 rating. This is Combs' first WCHA weekly award of his freshman season.
ECHL Goaltender of the Week: Cal Heeter, Orlando Solar Bears (Wichita Falls Wildcats/St. Louis Bandits)
Cal Heeter of the Orlando Solar Bears is the CCM ECHL Goaltender of the Week for Nov. 20-26. Heeter went 3-0-0 with a 1.63 goals-against average and a save percentage of .945 in three appearances last week. The 29-year-old stopped 33 shots in a 4-1 win over Jacksonville on Tuesday, made 23 saves in a 3-2 victory against South Carolina on Saturday had turned aside 30 shots in a 3-2 shootout win over the Stingrays on Sunday. A native of St. Louis, Heeter has appeared in 13 games with the Solar Bears this season posting a record of 4-5-2 with a 3.22 goals-against average and a save percentage of .889. Under contract to Toronto of the American?Hockey League, Heeter has seen action in 42 career ECHL games with Orlando, Toledo,?Evansville and Trenton going 24-11-3 with one shutout, a 3.02 goals-against average and a save percentage of .898. He has also appeared in 89 career AHL games with Grand Rapids, Toronto and Adirondack where he is 38-43-5 with five shutouts, a 2.68 goals-against average and a save percentage of .914. Heeter has also appeared in one career NHL game with the Philadelphia Flyers during the 2013-14 season. Prior to turning pro, Heeter appeared in 94 caeer games at Ohio State University where he posted an overall record of 39-36-11 with five shutouts, a 2.58 goals-against average and a save percentage of .915.
NAHL, NAPHL and Fairbanks Ice Dogs alum
Justin Woods
wants to end NCAA career on high note after cancer battle (
read
)
NAHL and Johnstown Tomahawks alum
Luke Lynch
uses gritty style to become on the NCAA's top goal scorers (
read
)