Saturday Scores: Sweep moves Ice Dogs into tie for Midwest lead
November 26, 2017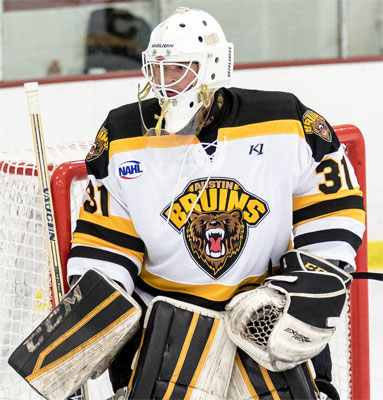 Fairbanks 5 @ Kenai River 2 - Another big first period allowed Fairbanks to coast to another victory as they defeated Kenai River 5-2. Hunter Wendt found the back of the night twice for Fairbanks. Jack Johnston had a goal and an assist while Jax Murray and Erkka Vanska also scored for the Ice Dogs. Logan Neaton picked up the win in the crease, he made 19 saves. Luke Radetic scored his team leading 13th goal of the season, Cameron McDonald also scored for Kenai River.
MN Wilderness 4 @ Janesville 3 (OT) - The Minnesota Wilderness erased a two goal deficit in the third period and eventually won the game in overtime thanks to Josh Fricks power play goal. Fricks also scored a power play goal in the third to tie the game at three. Ondrej Trejbal and Isaac Kobienia also scored for Minnesota. Ryan Fanti picked up the win in between the pipes, he stopped 28 shots. Tanner Polglaze and Matthew Doyle each had a goal and an assist for Janesville. Jakov Novak also scored in the loss.
Austin 1 @ Coulee Region 0 - Alex Schilling was a perfect 28 for 28 on Saturday night as the Bruins won their fifth straight game. It was Schilling's first shutout of the year. Evan Cholak's seventh goal of the season was the only goal of the night with Travis Kothenbeutel picking up the lone assist. Josh Graziano was nearly perfect for the Chill, he made 29 saves on 30 Austin shots.
Northeast 5 @ New Jersey 4 - A beautiful individual effort from Mike Egan won the game for the Generals as he scored the game winning goal with just six seconds remaining. Justin Jallen had a hat trick for Northeast while Matt Demolish scored a goal and had two assists. Colin Bilek notched four assists as well. David Fessenden made 36 saves in the win. Kyle Jeffers led New Jersey with three points, a goal and two assists. Nick Boyagian and Ryan Naumovski each had a goal and an assist. Eric Manoukian also scored in the loss for the Titans.
Philadelphia 3 @ Wilkes-Barre/Scranton 5 - The Knights catapulted back into first place in the East Division as they knocked off the Rebels 5-3. Tyrone Bronte led the Knights with a pair of goals while Adrian Danchenko and Jack Olmstead each scored a goal in the win. Mike Gelatt had a goal and two assists in the win. David Tomeo won between the pipes, turning aside 35 shots. For the Rebels, Jensen Zerban scored once and had two assists. Adam Peck and Andrew Bellant also scored for Philadelphia.
Springfield 3 @ MN Magicians 2 - Three goals in just over three minutes in the third period led to the Springfield Jr. Blues picking up the win in Minnesota. Marcus Walter scored what proved to be the game winning goal with help from Jeff Skinner and Ethan Stewart. Skinner scored one goal of his own while Bradley Marek also scored for Springfield. Connor Poczos got the win in goal, coming on in relief in the third. He allowed just one goal and made 12 stops. Jarrett Lee and Arturas Laukaitis scored for the Magicians while Isaiah Saville was stuck with the loss in net.
Shreveport 5 @ Topeka 6 (OT) - Will Schlagenhauf's second goal of the night came just 23 seconds into overtime and it lifted the RoadRunners to a 6-5 win over the Shreveport Mudbugs. Dallas Tulik and Sam Martel each had a goal and an assist while Max Finner and Hugh Quinn also scored for the home team. Nick Schultze and Nick Granowicz both had three helpers. Emil Gransoe picked up his sixth win of the year, stopping 40 shots. For the Mudbugs, Cameron Cook scored a pair, Kieran Durgan and Jack Clement had a goal and an assist, and Jake Transit also found the back of the net.
Corpus Christi 1 @ Odessa 2 - For the second straight night, Ricky Carballo scored the game winning goal for the Odessa Jackalopes, this one coming in the third period instead of overtime. Lucas Andersson scored the game tying goal for Odessa very early in the third. Brett Epp was excellent in goal allowing just one goal on 38 Corpus Christi chances. Pavel Koreshkov scored the lone goal for the IceRays and Chad Veltri came up short in net, he made 32 saves.
Aberdeen 0 @ Bismarck 2 - A pair of goals in the first period was more than enough for the Bismarck Bobcats as they take down the Aberdeen Wings 2-0. John Roberts notched his third win of the season and first shutout. Joseph Mancuso scored his sixth of the year while Michael Mahan scored his third for Bismarck. Gabe Vinal made 25 saves in a losing effort for Aberdeen.
Amarillo 2 @ Lone Star 4 - The Brahmas salvaged a split in their series with the Amarillo Bulls, winning on Saturday night by a score of 4-2. Justin Addamo and Ture Linden scored two goals in the victory while Harrison Feeney made 22 saves in goal. Marcus Chorney scored one and assisted on the other, that goal belonging to Simon Moberg. Jason Grande repelled 29 Brahma shots.
Brookings 1 @ Minot 7 - The Minotauros made quick work of the Brookings Blizzard on Saturday, scoring three goals in the first period and another goal very early in the second. Grant Loven had himself quite a night as he scored two goals and had two assists. Miroslav Mucha scored once and assisted on three others while Alex Adams and Taylor Lantz each scored one goal and had two assists. Michael Talbot and Austin Koss both scored as well for Minot. Jack Robbel grabbed his fourth win, he made 22 saves. Jimmy Elser remained hot for Brookings as he scored his third goal in four games.