NAHL alums a significant part of USA Hockey boost towards goalies in NHL
November 20, 2017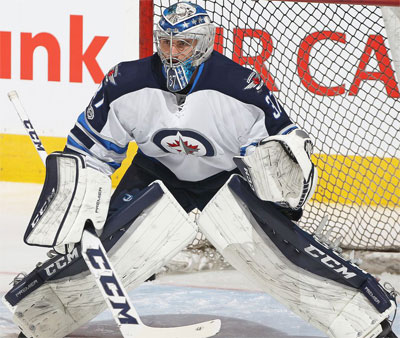 By Kevin Woodley, nhl.com
Detroit Red Wings goalie and NAHL alum Jimmy Howard didn't have access to a goaltending coach growing up, so his father read up on the position to lend a hand on the ice. Yet he became a starting goalie in the NHL.
Vancouver Canucks goalie prospect and NAPHL alum Thatcher Demko's dad used to book lessons with coaches in other cities when his youth teams traveled to make up for a lack of position-specific resources in his hometown of San Diego.
Dallas Stars starter and NAHL alum Ben Bishop didn't get his first goaltending coach until he was at the University of Maine.
All three succeeded despite a lack of dedicated position coaching as kids, but that is a difficult road to navigate.
There were 13 U.S.-born goalies in the NHL this season on opening night, and three teams had two Americans at the position: the Ottawa Senators (Craig Anderson, Mike Condon), New Jersey Devils (Cory Schneider, Keith Kincaid) and Anaheim Ducks (John Gibson, Ryan Miller).
Of those 13 U.S.-born goalies in the NHL, 11 of them are alumni of either the NAHL or the NAPHL.
NAHL Goaltending Alumni in the NHL
Anaheim Ducks: Ryan Miller
Carolina Hurricanes: Scott Darling
Dallas Stars: Ben Bishop
Detroit Red Wings: Jimmy Howard
Minnesota Wild: Alex Stalock
Montreal Canadiens: Al Montoya
New Jersey Devils: Keith Kincaid, Cory Schneider
Ottawa Senators: Craig Anderson
Winnipeg Jets: Connor Hellebuyck
Vancouver Canucks: Thatcher Demko (NAPHL)
Eight Americans are considered No. 1 goalies; 16 have played in the NHL this season. Another 26 American goaltenders have played a game in the American Hockey League.
USA Hockey, in an effort to make things easier for the next generation of goalies, is launching a formal goaltending coach education and certification program in the spring. It is part of a goal to have American goalies play 51 percent of the minutes in the NHL by 2030.
"It has become a battle cry for us within USA Hockey at multiple levels," Phil Osaer, manager of youth goaltending for USA Hockey, said of the "51 in '30" mantra.
If that sounds ambitious, consider the increase in United States-born goaltenders in the League during the past 10 years.
USA Hockey uses 2007 as its measuring stick because that was the year it added a full-time goaltending coach to its National Team Development Program (NTDP). During 2007-08, American goalies played 11.45 percent of NHL minutes. In 2015-16, the number was up to 22.31 percent. It dipped to just under 20 percent last season with the injury to Jonathan Quick, a workhorse with the Los Angeles Kings, but it was up to 23.4 percent through Nov. 15.
"That's pretty impressive," Howard said of minutes for U.S.-born goalies doubling during the past decade. "And [the 51-in-'30 target] is a very lofty goal but with USA Hockey the game is growing constantly."
Not everyone in the American pipeline will play in the NHL, but Osaer likes the way it's trending, and thinks the next 13 years are enough time to hit the 51 percent goal, especially with multilevel changes coming to the way USA Hockey develops goaltenders.
The changes start with the soon-to-be-announced goalie coaching certification program.
"As a kid playing net you are sort of just thrown in there and hit with pucks," Howard said. "I was fortunate, as I got older my dad, who is a huge hockey fanatic, started reading up on things and coming out to practice. It was nice to have him run me through goalie-specific drills."
USA Hockey wants to give more parents like Howard's easy access to the right teaching tools and drills.
"If it means goalies are not just sitting down there waiting for players to come and shoot in practice, that they are working on things and learning new things, it's a great idea," said Bishop, who helps goalies in his hometown of St. Louis during the offseason. "When you see kids now, they are just as good as NHL guys at moving around the crease, so when you get that type of coaching that young then it's just about who can read the game best and react."