Rebels salvage split with Generals with win on Sunday
November 20, 2017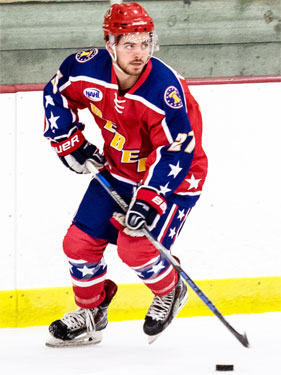 Philadelphia 5 @ Northeast 2 - Forwards Aaron Maguyon and Ryan Patrick each had two goals to lead the visiting Rebels to a 5-2 victory over the Northeast Generals. The win enabled the two teams to split the weekend series and remain tied for second place in the East Division with 30 points each.
Patrick put the Rebels on the board first just 1:02 into the game. As Aaron Maguyon skated to the bottom of the far side faceoff circle he took a shot on net that was redirected by Patrick in the slot past Northeast's goaltender David Fessenden for his fourth goal on the season.
The Rebels were able to make it 2-0 on Maguyon's first goal of the game with thirty-one seconds remaining. Dusan Kmec would backhand a pass to Maguyon in the slot and the Egg Harbor Township native took a wrist shot that beat Fessenden high glove side to make it a 2-0 game.
The Rebels took a 3-0 lead just ten seconds into the second period. After Mack Byers won the opening faceoff, Auggie Moore picked up the loose puck and passed it to Mack Byers who was at the high slot. Byers would skate in all alone on Fessenden and beat him glove side for his second goal on the season. Patrick's second goal of the game would give the Rebels a 4-0 lead at 2:23 into the middle stanza. Maguyon sent a touch pass to Patrick in the slot and Patrick took a one-timer that beat Fessenden far side.
Looking to just start his team, Generals' head coach Joe Lovell replaced Fessenden with Marko Sturma.
After Northeast's Joseph Mancuso won the draw deep inside the Rebels zone, the puck came back to Ryan Bogan at the point. Bogan took a slapshot that Rebels goalie Eli Billing made the initial left pad save but the rebound came out to Justin Jallen who backhanded the puck past the fallen Billing to put the Generals on the board 5:44 into the second.
Matt Demelis made it 4-2 as he broke into the zone and skated towards the net. Demelis made a nice move and put the puck between Billing's legs to cut the deficit in half with 4:47 remaining in the second.
Maguyon would score his second goal (and his fourth point of the game) at 1:09 into the third period. After the Rebels won the defensive zone draw the puck would go deep inside the Generals near side corner where Maguyon would get to the puck first and send it back to Kolby Vegara. Vegara took a clapper that hit the goal post but Maguyon picked up the rebound and put it into the open net to close out the scoring.
Billing turned aside 17 of 19 shots while Fessenden and Sturma combined to stop 25 of 30 shots.