Friday Finals: Chill stay hot with big road win
November 18, 2017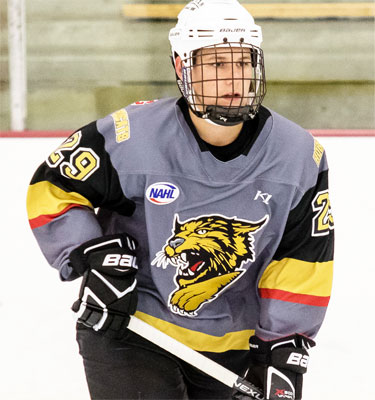 Coulee Region 7 @ Springfield 1 - Bailey Martin led the Coulee Region offensive onslaught as he scored a pair of goals and registered an assist. Brandon Koch, Jesper Solomon Frisell, Connor Samuel, Billy Duma and Andrew McGlynn all had goals for the Chill. Josh Graziano was lights out as he allowed just one goal on 44 Springfield shots. Max Osbourne scored the only goal for Springfield.
Minot 2 @ Fairbanks 5 - Tanner Schachle's hat trick was more than enough offense for the Fairbanks Ice Dogs. In addition to his three goals, he also had an assist to cap off a four point night on Friday. Kyle Mayhew and Erkka Vanska each had a goal and two assists in the Fairbanks victory. Josh Benson picked up his seventh win of the year as he made 34 saves. Miroslav Mucha and Rykr Cole scored for the Minotauros and Jack Robbel made 18 saves.
Bismarck 6 @ Kenai River 1 - The Bobcats have pushed themselves back into a tie for first place in the Central Division after a 6-1 win over the Brown Bears. Grant Johnson led all skaters with four points, two goals and two assists. Jared Resseguie and Cooper Haar each had a goal and an assist. Alex Pollock and Noah Bormann each lit the lamp as well for the Bobcats. John Roberts picked up the easy win, stopping 14 Kenai shots. Emils Ezitis scored the lone goal for the Brown Bears.
Johnstown 4 @ Wilkes-Barre/Scranton 6 - Two third period power play goals from Matt Kidney was the difference as the Knights defeated the Tomahawks 6-4. Tyrone Bronte, Jack Olmstead, Thomas Farrell and Shay Donovan also score for Wilkes-Barre Scranton in the win. Michael Morrissey led all Knights in points as he had four assists. Christian Stoever grabbed the win, stopping 32 of 36 shots. Donavon Ott notched a hat trick for the Tomahawks in the loss. Carson Briere had a goal and an assist.
Topeka 6 @ Amarillo 5 - The RoadRunners halted their nine game losing streak with a 6-5 victory over Amarillo. Dallas Tulik scored two goals while Will Schlagenhauf and Sam Martel each had a goal and two assists. Dylan Rauh and Jakub Urbanek each scored a goal in the win while Nick Granowicz had three assists. Connor Murphy got the win in goal as he denied 39 Amarillo shots. Collin Price, Stephan Rex, Alex Truscott, Gleb Murtazin and Nick Stuckless all scored for Amarillo.
Janesville 3 @ Brookings 4 (OT) - Jimmy Elser's goal at the 2:51 mark of overtime propelled the Blizzard to a 4-3 win over the Janesville Jets. Doug Larson had a goal and an assist while Josh Boyer and Andriy Denyskin each scored as well. Zachary Borgiel got the win in goal as he made 22 saves for Brookings. For the Jets, Tanner Polglaze and Matt Hanewall had a goal and an assist. Simon Sagissor also scored for Janesville. Daniel Lebedeff stopped 36 shots in a losing effort.
Lone Star 2 @ Corpus Christi 4 - The IceRays won their fifth straight game as they doubled up the Brahmas 4-2. Larry Jungwirth scored two goals for Corpus Christi, he now has nine goals in his last five games. Aleksi Peltonen and Garrett Hallford also scored for the IceRays. Chad Veltri picked up his seventh win of the season as he stopped 25 of 27 shots. Julian Biondo and Ryan Orgel scored for the Brahmas and Harrison Feeney made 12 saves.
Austin 4 @ MN Wilderness 2 - Four different Bruins found the back of the net in their 4-2 win over the Minnesota Wilderness. Valdemar Ahlberg, Benito Posa, Andy Willis and Travis Kothenbeutel all found the back of the net in the Bruins' win. Mads Sogaard improved to 5-2 on the season as he denied 28 Wilderness shots. Kosta Likourezos and Nikolai Lyssogor both scored for the Wilderness. Trevor Micucci made 16 saves in the loss.
Odessa 2 @ Shreveport 4 - Kieran Durgan's third period power play goal turned out to be the game winner for the Shreveport Mudbugs as they knock off the Jackalopes 4-2. Zachary Faremouth, Gueorgui Feduolov and Jordan Fader also scored for Shreveport. Recently committed Gustavs Grigals was outstanding yet again as he turned aside 38 shots. Blake Bride and Lucas Andersson scored for the Jacks while Brett App also made 38 saves.
MN Magicians 4 @ Aberdeen 2 - Aberdeen got within one in the third period but they could not overcome the 3-0 deficit to the Magicians. Despite being outshot 46-19, Minnesota came out of Aberdeen with a 4-2 victory. Jarrett Lee led the Magicians with three points, two goals and an assist. Carter Breitenfeldt had a goal and an assist while Charlie Weiand scored as well. Isaiah Saville stood on his head as he made 44 saves to earn his eighth win. Adam Pitters and Jonathan Bendorf scored for Aberdeen in the loss.