November 16, 2017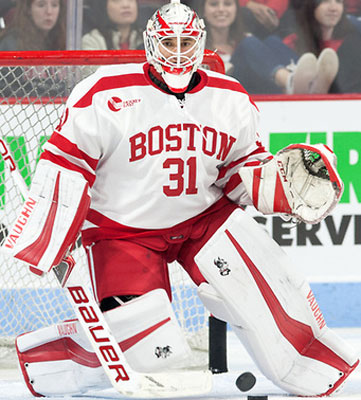 NCAA #1 Star and WCHA Offensive Player of the Week: Marc Michaelis, Minnesota State (Minnesota Magicians)
Michaelis put on an offensive show, leading the NCAA with five goals – including a pair of game-winners – and tying for tops with six points (one assist) as now-No. 5/8 Minnesota State earned a big WCHA road sweep at Bemidji State. The sophomore from Mannheim, Germany collected his second career hat trick in Friday's 5-2 victory, snapping a 1-1 tie with a power-play goal 1:12 into the second period, extending the Maverick lead to 3-1 with a short-handed marker at the 11:27 mark and wrapping up the contest with an empty-net tally in the third period. He then added another two goals, along with an assist, in Saturday's wild 8-6 contest. Michaelis' first goal Saturday, his second short-handed score of the weekend, knotted the game at 2-2 in the first period; his second, an even-strength tally, broke a 6-6 tie and gave the Mavericks the lead for good with 9:59 remaining in regulation. This is Michaelis' first WCHA weekly award of the 2017-18 season and his third career honor (he twice earned Rookie of the Week accolades en route to being named the 2016-17 WCHA Rookie of the Year).
Atlantic Hockey Goalie of the Week: Paul Berrafato, Holy Cross (Amarillo Bulls)
Berrafato backstopped the Crusaders to a 1-0-1 weekend against visiting Air Force. He recorded his second shutout of the 2017-18 season, stopping all 27 shots faced. Berrafato made 26 saves on 29 shots the following night as Holy Cross and Air Force tied, 3-3.
Atlantic Hockey Rookie of the Week: Jake Levin, Air Force (Odessa Jackalopes)
Levin, playing in his first career game on Saturday, scored two goals as Air Force snapped their four-game losing streak with a 3-3 tie at Holy Cross. Levin scored the first goal of the game, snapping Air Force's 140 minute scoreless streak. He then scored the game-tying goal in the third period with the Falcons trailing 3-2.
Hockey East Defensive Player of the Week: Max Prawdzik, Boston University (Lone Star Brahmas)
Max Prawdzik (Andover, Mass.) made his first NCAA start on Saturday and stopped all 29 shots he faced from #8 New Hampshire to backbone the Terriers to a 4-0 victory. In doing so, he became the first Boston University goaltender in 17 years to earn a shutout in his first career start.
WCHA Defensive Player of the Week: Daniel Brickley, Minnesota State (Topeka RoadRunners)
Brickley tied for the scoring lead last week among WCHA defensemen, tallying a goal and two assists as now-No. 5/8 Minnesota State earned a league road sweep at Bemidji State. The junior from Sandy, Utah blocked a pair of shots and had two shots on goal in the Mavericks' 5-2, series-opening win Friday, before contributing three assists in Saturday's 8-6 triumph. In that contest, Brickley collected all his points during Minnesota State's three-goal second period; additionally, he was on the ice for only one of Bemidji State's six goals, finishing the contest with a plus-4 rating. This is Brickley's second WCHA weekly award of the 2017-18 season and fourth of his career.
WCHA Goaltender of the Week: Justin Kapelmaster, Ferris State (Wichita Falls Wildcats)
Kapelmaster picked up back-to-back victories, leading Ferris State to a league sweep of visiting Alaska. The sophomore from Coral Springs, Fla., made 53 stops in the series and posted a .930 save percentage – tops among WCHA goaltenders who played in both games last weekend. He turned aside 21-of-22 shots Friday in a 3-1 victory, then made 31 stops – including 13 in the third period – Saturday as the Bulldogs completed the sweep with a 5-3 triumph. Ferris State has now won three-straight games, all with the 2016-17 College Hockey News Freshman Goaltender of the Year in net. This is Kapelmaster's first WCHA weekly award of the 2016-17 campaign and his fourth career honor (he earned two Rookie of the Week accolades and one Defensive Player of the Week nod last season).
NCHA Offensive Player of the Week: Peter Bates, St. Norbert (Janesville Jets)
Bates is the NCHA Offensive Player of the Week after netting a pair of game-winners over the past seven days. The freshman made his first two collegiate goals memorable, starting with the eventual winner in St. Norbert's 3-0 win over Trine Friday night, followed less than two minutes later by an assist to make it 2-0 at the time. He one-upped that one game later, coming through when the stage was biggest. In the battle of the top two teams in the national polls, Bates lit the lamp with under a minute to play to send the Green Knights past Adrian, 4-3, in overtime Saturday.
The NHL's Buffalo Sabres announced the team has recalled defenseman Casey Nelson (Johnstown Tomahawks) from the Rochester Americans (AHL). Now in his second full professional season after signing with the Sabres in March 2016, Nelson (6'1", 185 lbs., 7/18/1992) has posted four points (1+3) in 14 games with Rochester in 2017-18. A native of Stillwater, Minnesota, Nelson has totaled four assists and 12 penalty minutes in 18 career NHL games with Buffalo.
The Southern Professional Hockey League (SPHL) announced Justin Greenberg (Texas Tornado) is the Warrior Player of the Week for November 6-12. Greenberg scored three goals and added a pair of assists in leading Peoria to a home-and-home sweep of Knoxville this past weekend, moving the Rivermen into second place in the SPHL standings. On Friday, the Dallas, TX native scored a pair of goals, including the game-winner, and added an assist in Peoria's 5-3 win over the Ice Bears. The following night, Greenberg opening the scoring with a first-period goal and set up one other tally as the Rivermen defeated Knoxville 5-1. Greenberg played the previous four seasons at Miami (OH) University, where he was a three-time member of the NCHC Academic All-Conference Team as an Accounting major.