Rebels edge Titans on Wednesday night, 2-1
November 16, 2017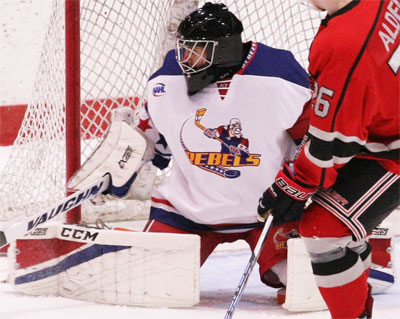 New Jersey 1 @ Philadelphia 2 - Playing their third straight game against each other during the past six days, the Rebels defeated the visiting New Jersey Titans 2-1 on Wednesday night in the rubber match game of the series between the two teams.
The Titans struck first as Nick Boyagian skated towards the Rebels net on a 2 on 1 with Wade Novak. Boyagian sent a pass to Novak on his left and this time the Titans' forward one-timer beat Rebels goalie Ryan Keane stick side to put the Titans up 1-0 with 7:19 remaining in the first.
After outshooting the Rebels 8-5 in the first, the Titans still controlled most of the play going into the second period. But as the period hit the midway point the tide started to change. With time winding down on a power play, Rebels forward Andrew Bellant had the puck along the far side boards. He sent a pass back to Kolby Vegara at the point, who sent a return pass back to Bellant. Bellant passed the puck to Aaron Maguyon down low who started to skate up along the boards and sent a pass back to Vegara at the point. The Rebels defenseman took a wrist shot through traffic that was redirected by Konur Peterson in front of New Jersey's net past goalie Matt Ladd to tie the game at one with 1:34 left in the period. It was Peterson's first goal as a Rebel.
As the game entered the third period, the Rebels started to control the play. Auggie Moore's hard work around the net demonstrated the grit. Off the faceoff inside the Titans zone, the puck went behind Ladd where Moore picked it up. Moore tried to skate towards the near side boards but was met by a New Jersey defender. Moore turned quickly and tried a wraparound but Ladd made the save and the puck came out to Andrew Frye at the far side circle.
Frye took a shot on net that was saved by Ladd but Moore battled for the puck and took a turnaround shot that was again saved by Ladd as the rebound came out to Titans' defenseman Ryan Wheeler. Wheeler tried to skate across the goalmouth with the puck but Moore put it past Ladd to give the Rebels a 2-1 lead at the 5:08 mark of the third period.
The win gives the Rebels a 14-3-0 record for 28 points and moves them into a tie for second place, one point behind the division leading WBS Knights, although the Rebels have three games in hand.
Keane turned aside 24 of 25 shots he faced while Ladd stopped 25 of 27.