Amarillo doubles up Odessa on Tuesday, 6-3
November 15, 2017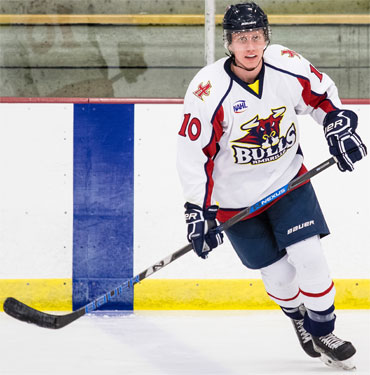 Amarillo 6 @ Odessa 3 - Bulls forward Jon Russell scored twice and Stephen Rex assisted on three others as the Amarillo Bulls doubled up the Odessa Jackalopes 6-3 and move back into sole possession of third place in the tight South Division. Other marksmen for the Bulls were Cameron Bartkoski and Gleb Murtazin each with their first junior goals, while Steven Ipri, and Brett Abdelnour had single markers. Jason Grande posted the win in goal.
It was a dynamic start to the game for the Amarillo Bulls as they netted two goals in the first 12:40 of action. Cameron Bartkoski wired a shot past the short-side of goaltender Alex Camarre from Nick Stuckless and Marcus Chorney on the power play. After that, Brett Abdelnour captilized on a miscue between the Odessa goaltender and his defenseman. The puck squirted free and Abdelnour was there to pounce on the puck and put it into the open cage. Nikita Sokolov and Colin Price picked up helpers on the play. Near the end of the period, the hometown Jackalopes reduced the deficit to one when Dylan Johnson tipped home a shot from Noah Poindexter. The Bulls and the Jackalopes each had 13 shots on goal in the first period.
The Bulls penalty kill provided the lone offense in the second period as Jon Russell finished of a rush up the ice with help from Stephen Rex. That was the second shorthanded goal by the Bulls in as many games. Odessa outshot Amarillo 11-9 in the middle stanza.
The goals came fast and furious in the third period as the Bulls found the back of the net three times in a five minute span. Jon Russell tallied on the power play from Stephen Rex. A short time later Steven Ipri bounced a shot off the glass and then the back of goaltender Camarre and into the net. Brendan Michaelian and Nick Fea had assists on the play. Gleb Murtazin added a sixth goal for Rocky Russo's charges with help from John Russell and Stephen Rex. The Jackalopes desperately tried to make the game close down the stretch and scored twice. Goals came off the sticks of Blake Bride and Viktor Johansson.
The Odessa Jackalopes outshot the Amarillo Bulls 34-31. Each team had six power play opportunities, with the Bulls scoring twice. Grande made 31 saves in the win, while Camarre was credited with 24 saves in the loss.