North Report: Jets begin ascent up the standings
January 13, 2011
by Alex Kyrias | NAHL.com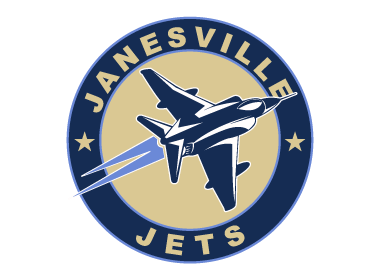 Winners of seven out of their last eight games, the Janesville Jets are soaring to the top of the North Division. With a three-game home sweep of the Motor City Metal Jackets, the Jets have moved into sole possession of second place in the NAHL's North Division.

Head coach Dane Litke has been pleased with his team's recent play, but is quick to point out that the race is long from over.

"It's going to be a tight race to the end," he said. "We're sitting in second place and it's tough to feel comfortable at this point. But, anytime you can play three games in three days and get six points, it's a pretty good feeling so it's something to build on and continue our momentum."

Janesville allowed just one goal in the three games, which included shutting down the league's best power play in Motor City thanks in large part to the Jets' penalty kill, which is ranked second in the league at 87.9 percent.

"There hasn't been a magic formula, but every time there's been a breakdown by our team, our goalie, David Jacobson, has been there to back us up."

Jacobson was in goal for back-to-back 5-0 shutouts over the Metal Jackets last weekend, stopping all 45 shots he saw while earning the NAHL Goaltender of the Week award. Jacobson has won six out of his last seven games and ranks second in the NAHL with a 1.94 goals-against average and is tied for the league lead in wins with 19.

Another key to Janesville's recent success is reining North Division Player of the Week Connor McBride. The homegrown product from nearby Hartland, Wis., had six points in the weekend sweep and is a player whom Litke relies heavily on for the Jets' overall success.

"He's been good and he's a guy who plays in all situations, so it was nice to see him work hard and have that translate into some scoring success," said Litke. "He's gone through spurts of scoring, so the more he can produce and be consistent on a regular basis, the better off we'll be as a team."

Prior to the Motor City games, Janesville went out of the division to play its newest rival, which also happens to be from Wisconsin, the Coulee Region Chill.

"It's been fun," said Litke. "It's a little strange to face someone so close geographically who's in a different division, but they're a tough team to play against. It's been good for our fans and the players, and been a very even matchup thus far."

The Chill was the last team to hand Janesville a loss, which came back on New Year's Day and each team has won three games against one another so far this season.

So the burning question becomes, does Janesville have a team that can win a North Division title and make it to the Robertson Cup?

"No doubt, St. Louis is the team to beat," said Litke. "We've had success against them at home, but you have to be able to win on the road if you want to go far in the playoffs and knock off someone like the Bandits.

"I like our team, but right now I'm just worried about making the playoffs and we'll see what happens from there."

NORTH DIVISION NOTEBOOK

CHICAGO HITMEN: Chicago's trip to Traverse City last weekend didn't go as planned. Although the Hitmen scored seven goals in the two-game series, it gave up 18, which was a season-high for back-to-back games. The two losses weren't without its bright spots. Chicago enjoyed the lead both nights and forward Shane Piggot had a goal and an assist. Following the series, Chicago traded leading scorer James Albrecht to Traverse City. The Hitmen face Dawson Creek this weekend for a two-game series.

MICHIGAN WARRIORS: Michigan is deadlocked with Motor City and Traverse City in the North standings. All three teams are tied for third with 41 points. The Warriors took two of three games last week, defeating Traverse City, 5-3, and splitting with Port Huron. First-year forward Brad Chapman was the offensive star for the Warriors as he racked up seven points in the three games, including a five-point night and hat trick on Saturday in a 9-1 win over Port Huron. The Warriors are off this weekend, but face a tough road test in two weeks as they make their first trip of the season to division-leading St. Louis.

MOTOR CITY METAL JACKETS: Motor City, which has the league's top-two scorers in Cody Wydo and RJ Kleiman, managed only one goal in the three contests and was shutout for the first time all season as the Metal Jackets were swept in a three-game series at Janesville last weekend. Motor City has dropped its last four games after winning its previous eight in a row. However, the Metal Jackets will have an immediate chance for revenge as they host the Jets for two games this weekend. It's the final time the two teams will face one another during the regular season.

PORT HURON FIGHTING FALCONS: Head coach Bill Warren picked up his first career NAHL win as the Fighting Falcons won their second game of the season on Friday with a 5-4 victory over Michigan. Nils-Erik Soderlund picked up a goal and an assist and forward Matt Ragains scored the game-winning goal with just minutes remaining. Ragains scored again on Saturday night giving him three points in his seven games in a Fighting Falcons uniform. Port Huron may face its toughest challenge of the season to date this weekend, as it travels to first-place St. Louis for three games.

SPRINGFIELD JR. BLUES: The Jr. Blues opened 2011 with two losses to St. Louis, which included a close 4-3 loss to the Bandits in Springfield on Saturday. However, the Blues front office had reason to celebrate as a season-high 2,170 fans turned out for the game. Forward Taylor Wolfe scored the final two goals of the game for the Jr. Blues, who dropped their sixth straight game to the Bandits. After this weekend off, the schedule doesn't get any easier for the Jr. Blues, who have to travel to second-place Janesville for two and then South Division-leading Topeka for two the final two weekends in January.

ST. LOUIS BANDITS: After a loss to Janesville back on December 11, the Bandits have rattled off four consecutive wins - all against Springfield - including last weekend as the Bandits swept the Jr. Blues by scores of 3-0 and 4-3. Goaltender Matt Green stopped 38 of 41 shots on the weekend, including all 19 in a 3-0 shutout on Friday. Green has won his last seven starts. Forward Evan Stibbard broke a five-game scoring slump with three points on Saturday. St. Louis will host Port Huron for three games this weekend beginning on Friday.

TRAVERSE CITY NORTH STARS: With nine goals in his last four games and riding a 10-game scoring streak, forward Kelin Ainsworth continues his hot play. Ainsworth had six goals last week as the North Stars went 2-1 against Michigan and Chicago. However, in the sweep against the Hitmen, forward Sean Murphy was the offensive star, scoring seven points in the two-game sweep. Since being acquired from Austin earlier in the season, Murphy has 13 points in 15 games in a North Stars uniform. After a bye week this week, the North Stars travel to Chicago to face the Hitmen next weekend.