Knights forward Bronte makes NCAA DI commitment
November 7, 2017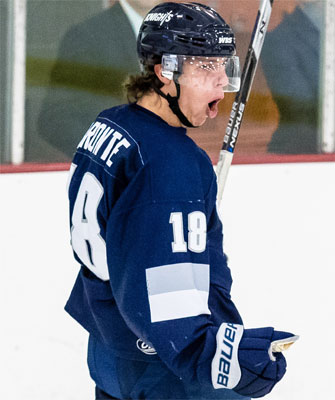 The Wilkes-Barre/Scranton Knights of the North American Hockey League (NAHL) are pleased to announce that forward Tyrone Bronte has committed to play NCAA Division I hockey for Bemidji State University in the WCHA.
Bronte, 18, has been a key part of the Knights success this season tallying five goals and seven assists in 13 games. In the 13 games that Bronte has played for the Knights, the team is 11-1-1. They're 1-2-2 without him.
"We're very proud that Tyrone had made his commitment to play for Bemidji State," said Knights head coach Tom Kowal. "He has worked very hard to turn into a gifted forward with and without the puck and maximizes his talent with his effort on and off the ice. He's a smart and skilled player who consistently elevates the play of his teammates. Our numbers and our record this year are a lot better with him than without him. Tyrone is going to a good program with a history of winning hockey. He's going to help continue that trend. Bemidji is getting a good one."
Bronte (5'10/165) is another example of a ladder of development success story. The native of Melbourne, Australia, Bronte has transitioned well since coming to the United States. His play at the midget and junior level has consistently turned heads, enough to earn him the right to play at the highest level of college hockey.
Bronte played the 2016-17 season for the Meijer AAA 18U team in the NAPHL. He was the leading scorer in the 18U Division with 36 points in just 18 games played. He was named to the All-NAPHL 18U 1st Team, as well as, played in the NAPHL 18U All-Star Game. He then signed a tender to play for the Knights this season.
"Bemidji's hockey program is exquisite," said Bronte of his future home. "They have really great facilities. Their rink is gorgeous; the locker room is as well. From the beginning, their coaching staff was up front and honest with me about their interest. They made it a point that they really wanted me. They came to me after only the first few games to let me know. Their interest in me sparked my interest in them. It's a dream for me. I came to America to play division one hockey," he said. "My goal is to one day play in the NHL. Playing DI is a step in that direction. It helps me and helps my family."
The Bemidji State Beavers are coming off a season in which they won the MacNaughton Cup, awarded to the team that finishes with the best record in the WCHA conference at the end of the regular season. The program has made several long runs in the NCAA tournament since jumping up to Division I level in the 1999-2000 season. Notable program alumni include current Philadelphia Flyers forward Matt Read along with former NHL players like Calgary Flames standout and US Olympian Joel Otto, forward Andrew Murray, and defenseman Gary Sargent.
As for the rest of the current season, Bronte is focused on continuing the Knights recent success and continuing to develop his own game.
"Right now we're doing well. We're playing well as a team and as individuals. My motto has always been to put the team first, because I believe that team success brings about individual success."
Through all his success, Bronte hasn't lost sight of those who've helped him along his way.
"I'd like to thank my parents and my brother for their support through this," he said. "I'd like to thank God for granting me my talents and blessing me on this journey."