Bulls stay hot with another shutout from Grande
November 3, 2017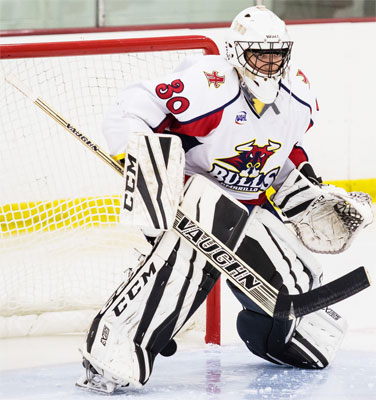 Lone Star 0 @ Amarillo 3 - It has now been 181 minutes since the Amarillo Bulls and goaltender Jason Grande have allowed a team to score a goal. Grande posted his third straight shutout of the season and 2nd against the Lone Star Brahmas in a 3-0 victory on Thursday night at the Budweiser Bull Pen in the Amarillo Civic Center. It's the first time in Amarillo Bulls history that a team has prevented the opposition from scoring for three consecutive games. The win extended the Bulls unbeaten string to six games (4-0-1-1) and it vaulted them over the Odessa Jackalopes into third place in the South Division. The Brahmas had a seven game unbeaten string come to an end.
After a scoreless 1st period, the pendulum swung in the favor of the Amarillo Bulls in the middle stanza as they took control. Jason Brancheau gave the Bulls a 1-0 lead when he found a loose puck in the face-off circle and lifted it over goaltender Mitchell Gibson with nearly six minutes gone by in the stanza. Later in the period, the Bulls power play went to work, as forward Jon Russell took a pass from Steven Ipri and sliced his way through the Lone Star defense and deposited the puck past Gibson on the far post.
The Bulls packed it in defensively in the third period and did an excellent job of keeping the Brahmas from getting to the front of the net. Julian Biondo had Lone Star's best opportunity of the night when he stole the puck from the face off and fired a shot right into the pads of Jason Grande. Down the stretch, the Brahmas pulled their goaltender in favor of the extra attacker and the Bulls were able to take the puck as Brendan Michaelian flung the puck out of the zone and into the empty net with less than a minute remaining.
The Amarillo Bulls outshot the Lone Star Brahmas 24-18 in the contest. Grande stopped all 18 shots that came his way for his 4th shutout of the season, while Gibson made 21 saves in the loss.