Generals forward Bilek makes NCAA DI commitment
October 31, 2017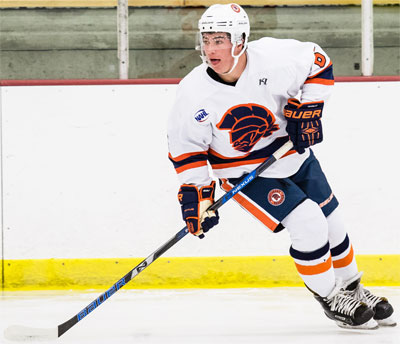 The Northeast Generals of the North American Hockey League (NAHL) are pleased to announce that forward and captain Colin Bilek has committed to play NCAA Division I College Hockey at Army (West Point) for the 2018-19 season.
"Colin epitomizes everything we do and expect of our players on and off the ice as a member of the Northeast Generals. He is an amazing young man that has worked harder than everyone else to realize his dream of playing NCAA Division I college hockey," said Generals Head Coach Joe Lovell.
Bilek, 20, is a two-year captain of the Northeast Generals. During the tough 2016-17 season, which saw the Generals only win 4 games, Bilek (5'10/177) was the rock that all players relied on to keep them motivated. He finished his first year with the Generals with 18 goals and 22 assists for 40 points while playing in all 60 games. So far in the 2017-18 season Colin leads the entire NAHL in scoring with 10 goals and 14 assists for 24 points in 20 games.
Earlier this week, Bilek was named the NAHL's East Division Star of the Week.
"When I first recruited Colin two years ago I knew he would be our captain the first time I spoke with him. He is just that type of kid. Out works everyone, a true leader on and off the ice. He wore the 'C' as an underage player and I don't think anyone that met him ever questioned that decision. This year, he has helped transform our team into one with a winning culture. To have gone through what he did last year with 4 wins into having us in a good position with 14 wins in our first 20 games is amazing. It is a real testament to what he demands of himself and his teammates and that is nothing less than 100% every time they touch the ice," said Northeast Generals General Manager Bryan Erikson.
West Point, one of the most prestigious schools in the United States, plays in the Atlantic Hockey Division and is currently 3-3 on the year.
"Colin a true example of working hard to realize your dreams. He never makes excuses, just works hard. He is obviously very talented but it is his determination that sets him apart from his peers. He should be an example to his teammates about what hard work can bring you," said Lovell.