Enright leads Brown Bears to 4-2 win over Magicians
October 27, 2017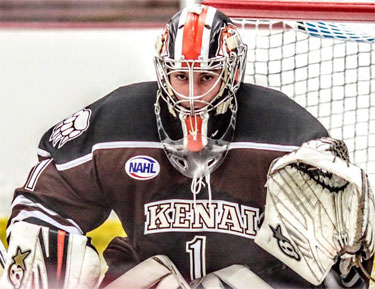 MN Magicians 2 @ Kenai River 4 - It was the story of the kid who left home facing his old team. Kenai River Brown Bears netminder Gavin Enright did just that Thursday night and prevailed. The 18-year-old Farmington, Minnesota, native stood tall at the Soldotna Regional Sports Complex to lead the Brown Bears to a 4-2 division win over the Minnesota Magicians.
The victory left Kenai River 6-7-0-0 and with 12 points, tied for fourth in the North American Hockey League Midwest division. Minnesota (6-4-1-1) is third with 14 points, while Janesville (Wisconsin) sits atop the division with 22 points.
Enright was on his game all night, warding off a barrage of tough shots from Minnesota with his team holding a one-goal lead in the second and third periods. Enright ended the night with 38 saves on 40 shots.
Kenai product Ross Hanson got the crowd on its feet early with his first goal on home ice as a Brown Bear, his third overall this season, and Markuss Komuls added an insurance goal midway through the third period to help pave the way to victory. Gil Garcia and Luke Radetic scored for Kenai River as well.
The Magicians got goals from Kyler Grundy late in the 1st period and Jarrett Lee late in the 3rd period while on a power play.
Enright ended the night as the #1 star, making 38 saves in the winning effort. Magicians goalie Isaiah Saville made 36 saves in the loss.