October 26, 2017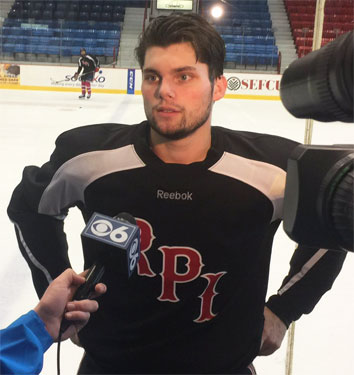 Atlantic Hockey Goalie of the Week: Paul Berrafato, Holy Cross (Amarillo Bulls)
Berrafato led Holy Cross to a sweep of Atlantic Hockey rival Bentley over the weekend. He totaled 44 saves and allowed three total goals in the two games, posting a save percentage of .936 and a goals against average of 1.49. Berrafato posted his seventh career shutout with a 27-save effort on Saturday.
Atlantic Hockey Rookie of the Week: Marc Johnstone, Sacred Heart (Kenai River Brown Bears)
Marc Johnstone helped Sacred Heart pull off the upset over #5 Notre Dame on Thursday, recording three assists in the 6-4 victory. His second assist came after he stole the puck from a Fighting Irish skater and led a break for Zach Tsekos, while his final assist led to the game-sealing goal. Johnstone finished the weekend with four blocks and a plus-one rating.
ECAC Hockey Rookie of the Week: Troy York, RPI (Lone Star Brahmas)
RPI forward Troy York has been selected Rookie of the Week after helping the Engineers to a 1-1 record over the weekend. A freshman from Plano, Texas, York posted two goals and one assist in two games last week. He recorded a helper in Rensselaer's 4-3 overtime loss at Niagara on Friday, before netting a pair of goals, including the eventual game-winner, in Saturday's 8-3 victory at RIT. One of his tallies came on the power play. For the week, he was a +2 with four shots and one block. On the season, York has two goals and two assists for four points in three games, starting his RPI career with at least a point in each contest. One of his goals has been a game-winner and one has come on the power play. The former Lone Star Brahmas standout has a +3 rating, with six shots and three blocks.
ECAC Goalie of the Week: Jake Kielly, Clarkson (Austin Bruins)
For the second time in the opening month of the 2017-18 season Clarkson University's Jake Kielly has been named ECAC Hockey Goaltender of the Week. A native of Eden Prairie, MN, Kielly returns to his home state this weekend as one of the best goaltenders in the country through the early going of the 2017-18 campaign. Coming off his second shutout of the season, a 26-save effort in Saturday's 4-0 win over Providence, the sophomore posts a .958 save percentage (2nd in the NCAA) and a 1.32 goals against average (5th). Playing every minute in the Clarkson crease through the first six games, Kielly's owns a .750 winning percentage (T-8th) and is tied for first in shutouts. He also blanked Michigan on October 7 with 29 saves in Potsdam.
NCHC Defenseman of the Week: Grant Hutton, Miami (Janesville/Corpus Christi)
Hutton was a force at both ends of the ice in Miami's split at Maine, including playing a key role on special teams. The junior compiled five points in the two games, with all five points coming on the power play. In Friday's 7-5 win, Hutton buried two goals on the man advantage for his first career multi-goal game, while firing four shots on goal and helping Miami's penalty kill go 5-for-6. In Saturday's series finale, he had a hand in all three Miami goals in a 6-3 loss, again scoring two power play goals while handing out an assist for a career-high three points, which earned him Third Star of the Game. Hutton finished the series with four goals, an assist, seven shots on goal and one blocked shot, while helping Miami go 11-of-14 on the penalty kill against Maine.
WCHA Goalie of the Week: Nick Kossoff, Lake Superior State (Keystone Ice Miners)
Kossoff was simply sensational in his lone game, making 63 saves – the 10th-highest single-game total in 66 seasons of WCHA hockey – to almost single-handedly lift Lake Superior State to a 3-3 tie at defending national champion and top-ranked Denver. Despite being outshot 66-17 for the game, the Lakers led 1-0 after the first period, 2-1 after the second and escaped with the draw – mostly thanks to Kossoff. The junior from West Des Moines, Iowa made 17 saves in the first period, 18 in the second, and incredible 26 in the third and two more in overtime. Despite playing in just the one game, Kossoff tied for fifth nationally in saves. This is Kossoff's first career WCHA weekly award.
Former NAHL and Lone Star Brahmas defenseman and NAPHL alum
Jordan Wishman
has committed to play NCAA Division I hockey for Michigan State (
read
)