Knights hand Rebels first loss, Blizzard blitz Bruins on Wednesday
October 26, 2017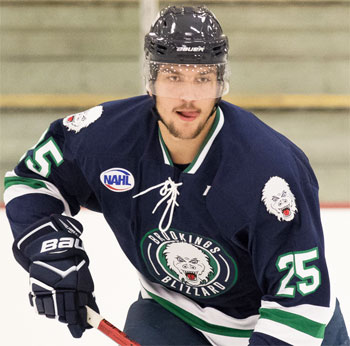 Philadelphia 1 @ Wilkes-Barre/Scranton 3
– The Wilkes-Barre/Scranton Knights handed the Philadelphia Rebels their first loss of the season in a Wednesday matinee game by a score of 3-1. It was the Rebels on Friday who struck the game's initial blow. On the power play, Auggie Moore found a rebound off the pads of Knights goalie David Tomeo, firing it by for the 1-0 lead. With the pace of play and shots evening out as the period ticked down to its final seconds, Anthony Firriolo fired a Tyrone Bronte faceoff win to the net where Justin Engelkes tipped the puck through the pads of Rebels starting goalie Ryan Keane to tie the game at 1-1. Off the opening face off of the second, Adrian Danchenko knifed and dangled his way toward Keane's net before the puck rolled off his stick and onto Keane's left pad. The save sent the puck to a waiting Tyrone Bronte, who ripped the puck past the netminder to give the Knights a 2-1 lead. Gabe Temple found the insurance the Knights needed just 3:07 into the final stanza. Fed by Matt Kidney and Tom Farrell, Temple drilled a dart top shelf, past Keane for a two-goal lead the first goal of his Knights career. Wilkes-Barre/Scranton would continue to be bolstered by Tomeo in net, who stopped 26 of 27 on the afternoon, and clamped down on the Rebels as time ticked away. Keane would make 32 saves in the loss.
Boxscore
Brookings 7 @ Austin 1
– Andriy Denyskin had a hat-trick as the Blizzard scored early and often to snap the Austin Bruins winning streak in a 7-1 road win in a Wednesday matinee game. The Blizzard found some early magic while killing a penalty as Josh Boyer converted a shorthanded 2 on 1 to give the Blizzard a 1-0 lead and their league-leading 5th shorthanded goal of the year. Denyskin then took over, scoring the next two goals to give the Blizzard a 3-0 lead after one period. It didn't take long for the Blizzard to add to their lead in the 2nd period as Henry Enebak scored his first goal of the year less than a minute into the period. Denyskin then posted his hat-trick less than four minutes later to make the score 5-0. The Blizzard piled onto the lead with two more goals in the 3rd period, including a power play goal from Doug Larson and another from Tyler Hinterser. Blizzard goalie Ben Beck made 31 saves in the win. The Bruins were only outshot 34-31, but they weren't able to keep Brookings out of the net. Mads Sogaard had 12 saves on 16 shots for Austin and Alex Schilling stopped 15 of the 18 shots he saw. Austin's lone goal came when Benito Rosa scored his fourth goal of the season with 9:09 left in the contest.
Boxscore