October 20, 2017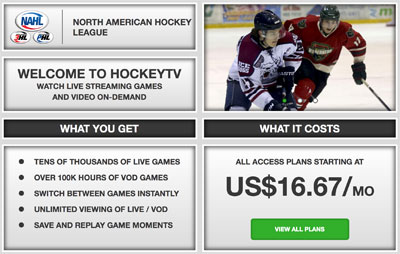 The NAHL continues a busy week of 21 games with more action Friday through Sunday this weekend.
To date more than 70 NAHL players or alumni have made NCAA Division I commitments.
In the Central Division, the red-hot Bismarck Bobcats take their winning streak on the road to face the Brookings Blizzard, who sit in a three-way tie for 1st place with Bismarck and Aberdeen. Meanwhile, the Wings are in Austin for a pair of games against the Bruins. The final series sees the Minnesota Wilderness at the Minot Minotauros.
In the East Division, the busy teams this weekend will be New Jersey and Wilkes-Barre/Scranton. The Titans host the Northeast Generals for a pair of games on Friday and Saturday and then host the Knights on Sunday. The Knights host Johnstown on Friday and Saturday before Sunday's clash with the Titans. Philadelphia is off.
In the Midwest Division, the 1st place Janesville Jets are in Coulee Region for the Chill's home opening weekend. The Minnesota Magicians take the trip North to face Fairbanks in their home opening weekend. Meanwhile the Kenai River Brown Bears take on Shreveport in Alaska in the Brown Bears home opener. Springfield is idle.
In the South Division, the 1st place Mudbugs are on a trip to Alaska to face Kenai River. The Topeka RoadRunners are in Odessa for two more games after the Jackalopes took Game 1 of the three game series on Thursday, 3-0. The other series sees Corpus Christi at Lone Star as the Brahmas raise their Robertson Cup banner for their home opener. Amarillo is idle.
Friday, October 20th
Northeast at New Jersey - 7:30 PM EDT
Johnstown at Wilkes-Barre/Scranton - 7:30 PM EDT
Aberdeen at Austin - 7:05 PM CDT
Bismarck at Brookings - 7:05 PM CDT
Topeka at Odessa - 7:11 PM CDT
MN Wilderness at Minot - 7:35 PM CDT
Corpus Christi at Lone Star - 7:45 PM CDT
MN Magicians at Fairbanks - 7:30 PM AKDT
Shreveport at Kenai River - 7:30 PM AKDT
Saturday, October 21st
Northeast at New Jersey - 7:30 PM EDT
Johnstown at Wilkes-Barre/Scranton - 7:30 PM EDT
Janesville at Coulee Region - 7:00 PM CDT
Aberdeen at Austin - 7:05 PM CDT
Bismarck at Brookings - 7:05 PM CDT
Topeka at Odessa - 7:11 PM CDT
Corpus Christi at Lone Star - 7:30 PM CDT
MN Wilderness at Minot - 7:35 PM CDT
MN Magicians at Fairbanks - 7:30 PM AKDT
Shreveport at Kenai River - 7:30 PM AKDT
Sunday, October 22nd
Wilkes-Barre/Scranton at New Jersey - 4:30 PM EDT
Janesville at Coulee Region - 4:00 PM CDT