October 19, 2017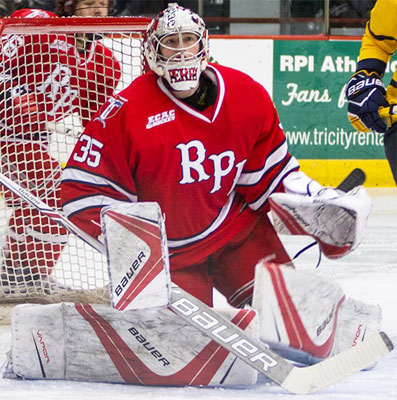 ECAC Goaltender of the Week: Chase Perry, RPI (Wenatchee Wild)
ECAC Hockey has announced its weekly men's hockey award winners and RPI men's hockey student-athlete Chase Perry has been named Goaltender of the Week after helping the Engineers to a pair of ties over the weekend. A junior from Andover, Minn., Perry recorded 83 saves in two 1-1 ties against Ohio State last week. He opened the season by turning away a career-high 56 shots, including 25 in the second period alone on Friday night, before saving 27 shots on Saturday. He stopped all 15 shots he faced in the third period of game two against the Buckeyes. Through the two games, Perry has a 0.92 goals against average and a .976 save percentage, which are both the best in the nation.
WCHA Defensive Player of the Week: Daniel Brickley, Minnesota State (Topeka RoadRunners)
Brickley excelled on both ends of the ice in helping Minnesota State to an impressive nonconference road sweep at then-No. 2 Boston University. The senior from Sandy, Utah tied for the lead among NCAA defensemen with three assists and was tied for second with four points, while compiling a team-high six blocked shots (tied fourth nationally) and a +3 rating (tied for seventh among NCAA blue-liners). All four points came during the series-opening, 6-3 Mavericks victory, as he tied the game 2-2 late in the first period with a power-play goal and added a trio of helpers. His defensive effort then sparked Saturday's 3-0, shutout triumph. This is Brickley's first WCHA weekly award of the 2017-18 season and third of his career.
WCHA Goaltender of the Week: Michael Bitzer, Bemidji State (Alexandria Blizzard)
Bitzer backstopped Bemidji State to a 5-2 win and scoreless tie against then-No. 5/9 Minnesota Duluth, posing 72 saves, a 0.96 goals-against average and a .973 save percentage over 125:00 in net. The senior from Moorhead, Minn. collected 27 saves in the Beavers' season-opening victory Friday, before recording a career-high 45 saves en route in Saturday's 0-0 draw. His 17th career shutout – an ongoing Bemidji State record and the most by an active NCAA men's goaltender – included 11 saves in the first period, 16 in the second, 14 in the third and four more in the first, official overtime. The Beavers were outshot by a 45-27 margin but survived for the series win over the Bulldogs due to Bitzer's heroics. This is Bitzer's first WCHA weekly award of the 2017-18 season and his 12th career honor, including a pair of Rookie accolades and nine Defensive awards.
Fairbanks, NAHL alum Maass helping to mobilize New Hampshire defense
Just nine months ago, Benton Maass wasn't sure where he'd be playing hockey this season. In the midst of his senior season at Elk River High School in Minnesota, he was still being overlooked by a lot of schools. UNH was one of the few schools that liked what they saw from the big, rangy defenseman. Associate head coach Glenn Stewart had seen Maass at the NAHL Showcase with Fairbanks prior to the high school season starting. The wheels started to turn when New Hampshire invited Maass out for an official visit. "It was great. I came out on a visit in late January. They gave me the offer while I was here. They wanted me to come in next year, which was obviously something I hadn't been expecting. It was cool to know they thought I was ready," said Maas. Committing to UNH was just the beginning of the solidification of his hockey future. Before Maass even arrived in Durham, the UNH coaching staff's decision to bring him in early was justified further when the Washington Capitals selected him in the sixth round of the 2017 NHL Draft. Being picked wasn't a sure thing for Maass, who didn't attend the draft (
read
)
Austin, NAHL alum Kielly savoring experience at Clarkson
It's hard to believe someone who had never heard of Clarkson University until a few years ago could be such an ambassador and staunch advocate for the school.
Growing up in Eden Prairie, Minn., Clarkson sophomore goaltender Jake Kielly had heard of hockey powers such as Minnesota, North Dakota and Wisconsin, but not the school where he'd eventually land.
"Being a Minnesota guy, I never heard of Clarkson before," said Kielly.
But, it didn't take long to convince Kielly of the many benefits and offerings of the small school in western New York. He instantly knew the school and its storied hockey program were right for him after his recruiting visit.
"I just loved everything about the school and the hockey program. I always thought I'd end up at a bigger school. I thought that's what I wanted, but when I made the visit here I absolutely loved it," said Kielly.
"The tradition was a huge thing for me. You can see the tradition of the hockey program in the rink. You have the All-Americans, the Stanley Cup Champions, the jerseys of all the guys who've made it to the NHL, and the championship banners going back to the 30s and 40s," Kielly continued. (read)