Rebels stay undefeated with win over 1st place Generals
October 19, 2017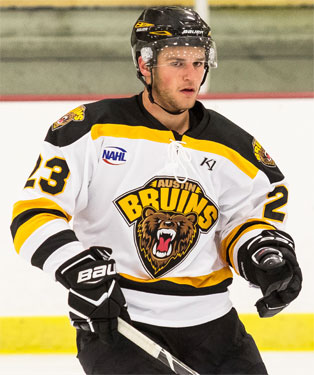 Northeast 3 @ Philadelphia 5
- Jonathan Bendorf's three-point game helped lead the Philadelphia Rebels to a 5-3 victory over the visiting Northeast Generals to keep the Rebels undefeated with an 11-0 record on the season. The Rebels got off to an extremely fast start just 2:08 into the game when Bendorf took a wrist shot that beat Generals goalie Marko Sturma to give the Rebels a 1-0 lead.Five minutes later Bendorf beat Sturma again on an unassisted goal to give the Rebels a 2-0. Then one minute later at the 8:23 mark of the opening period the Rebels went up 3-0 on a goal from Jensen Zerban. Shortly after Zerban's goal, Andrew Bellant scored on the power play to put the Rebels ahead 4-0. Despite being down 4-0 just ten minutes into the game, the Generals didn't give up. Justin Jallen would score the visitor's first goal of the game with 4:24 left in the first period. The Generals would cut the Rebels lead in half with 1:08 left in the period as Louis Boudon scored to make it 4-2. The Generals would make it a one-goal game just 2:29 into the second period as Alex Cohen scored on a breakaway to make it 4-3. The Rebels put the game on ice as Auggie Moore picked up a rebound goal to make it a 5-3 final. The win puts the Rebels two points behind the Generals for first place with five games in hand. Eli Billing stopped 13 of 15 shots while Sturma and David Fessenden combined to turn aside 29 of 34 shots.
Boxscore
Austin 6 @ MN Wilderness 5 (SO)
– The Austin Bruins came back from a 4-0 deficit and scored the lone goal in a shootout to defeat the Minnesota Wilderness 6-5 on Wednesday night at Northwoods Arena in Cloquet. Luke Dow scored the opening goal on a power play and Kosta Likourezos and Gino Lucia added goals for a 3-0 Minnesota lead midway through the first period. But the Bruins tied the game before the end of the period with goals from Sviatoslov Kuchynski, Andy Willis and Travis Kothenbeutel and then rallied again after Isaac Kobienia and Nick Altmann had given the Wilderness a 5-3 early in the third period. Lane Krenzen and Benito Posa tied the game with goals 95 seconds apart to force overtime. Dante Zapata then added the shootout winner for the Bruins to gain the extra point. Mads Sogaard made 34 saves in the win in a relief appearance, while Trevor Micucci made 28 saves in the shootout loss.
Boxscore