West Report: Progress continues in Dawson Creek
January 7, 2011
by Brian McDonough | NAHL.com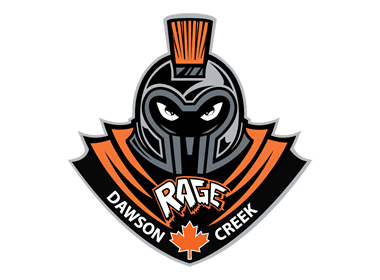 In its first season of existence coupled with being the only North American Hockey League (NAHL) team to call Canada home, the Dawson Creek Rage knew full well it'd face its fair share of challenges this year - and it's tackled them head-on.

"The first half of our season was a learning experience for everyone involved in our organization, from the players to coaches to our management," said Rage head coach Scott Robinson. "Even the people who run our arena on game nights have done nothing but gain experience and improve from game to game.

"We went into this expecting to meet unforeseen challenges and have done so with a good attitude, all in all."

And despite the team's record as its starts the second half of his season - the Rage is mired in last place in the West Division with an 11-22-2 record (24 points) - the local interest remains high - the team in averaging over 1,100 fans a game - and the players continue to make significant strides on the ice.

"We're definitely going in the right direction," said Robinson, who credits the growth of his entire defensive corps in recent months. "We've learned what it takes to compete on a daily basis, we've become more experienced in how to conduct ourselves, travel-wise, and we continue to work at being better."

One bright spot for Dawson Creek has been the performance of forward Dakota Mason. The 18-year-old from Edmonton leads the Rage in scoring with 25 points (16 goals) through 31 games.

"Dakota got off to a slow start and it's a credit to him that he's persevered and found a way to get things done," said Robinson. "He's an incredibly-skilled player who's scored some of the best goals of our season.

"One-on-one on the goalie, there's not another player in the league who's better. He has unlimited potential. Players with his ability don't come around very often."

And regardless of how the team finished heading into the holiday break - the Rage lost three straight to Wenatchee - spirits are high as Dawson Creek chases a postseason berth in what's shaping up to be an ultra-competitive West Division.

"The morale of this team is very good," said Robinson. "We finished the first half on a real tough stretch, but the boys have returned rejuvenated and ready to go.

"We expect to have more success in the win-loss column as we continue to grow."

Given its heavy travel demands, the Rage does have the remainder of the regular-season schedule working slightly in its favor. Beginning with this weekend's games against Wenatchee, Dawson Creek plays 13 of its remaining 23 games at home.

"Our focus continues to be playing our best and pushing the envelope," said Robinson. "We go into every game knowing that we can win and expecting to win - that's the only way to think."

WEST DIVISION NOTEBOOK

ALASKA AVALANCHE: Forward Blake Huppert got his New Year off on the right foot, connecting for two goals and two assists in a two-game split in Fairbanks last weekend. "Blake's overall play has continued from where he left off before break," head coach Brian Huebel said of the 20-year-old from Wasilla, Alaska. "He's continued to take care of every zone and is seizing every opportunity he's earning. He's an 'every-situation' guy for us and continues to lead by example for our team."

FAIRBANKS ICE DOGS: Alaska-Fairbanks recruit Jared Linnell, from North Pole, Alaska, picked up a pair of assists, including one on Charlie Thauwald's game-winning goal, in the Ice Dogs' 5-2 triumph over Alaska on New Year's Eve. The 17-year-old, who has 16 goals for 30 points in 35 games, was held scoreless the next night - a 4-1 loss to the Avalanche.

FRESNO MONSTERS: Despite a pair of losses in Wenatchee last weekend, forward Derek Sutliffe, from Las Vegas, connected for three of the Monsters' five goals. The 18-year-old has seven goals for 10 points in 31 games this season. Fresno heads to Wichita Falls for a pair of games this weekend before playing two against the Tornado.

KENAI RIVER BROWN BEARS: Kenai River welcomes Alaska to town for a three-game series on Thursday (a 2-1 loss), Friday and Saturday. The Brown Bears are an even 5-5 against the Avalanche this season. Forward Sean Muller notched Kenai's only goal of the game in Thursday's defeat.

WENATCHEE WILD: The Wild extended its winning streak to five games last weekend with a two-game sweep over Fresno. Goaltender Brandon Jaeger, a 20-year-old from Champlin, Minn., picked up both wins between the pipes turning aside 36 of 41 shots. Wenatchee heads to Dawson Creek this weekend for a two-game series against the Rage.