Magicians come from behind to beat Jr. Blues on Thursday
October 13, 2017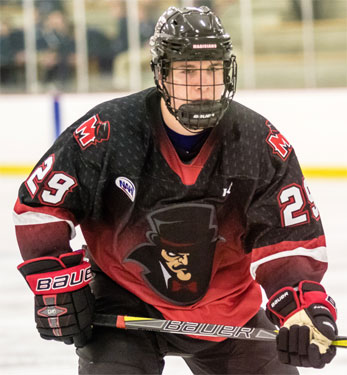 Springfield Jr. Blues 4 @ MN Magicians 5 (OT) – In the lone NAHL game on Thursday night, the Minnesota Magicians fought back from 3-0 and 4-1 deficits to defeat the Springfield Jr. Blues in overtime, 5-4.
It was all Jr. Blues in the 1st period as they jumped out to a 3-0 lead, which chased Magicians starting goalie Isaiah Saville from the net. Fletcher Fineman scored his 4th goal of the season with a power play marker. Nikita Kozyrev then added his 4th of the season for a 2-0 lead, which was followed by a goal from Shane Haviland.
In the 2nd period, the Magicians got on the board to make the score 3-1 thanks to a goal from Bram Scheerer. The Jr. Blues pushed the lead back to three with a goal from Ethan Stewart. The Magicians comeback started midway through the period as goals from Kyler Grundy (4) and Cameron Buhl (1) made the score 4-3 heading into the 3rd period.
In the 3rd period, the first goal of the season from Arturas Laukaitis tied the game at 4-4. In the overtime and with just seven seconds remaining, the Magicians converted on a 2 on 1 as Jarrett Lee fired a shot past Jr. Blues goalie Evan Fear.
Fear made 31 saves in the loss, which Garrett Mackay, who came in the game in relief of Saville, made 31 saves in the win.