North Report: Bandits have hunger to regain Cup
January 6, 2011
by Alex Kyrias | NAHL.com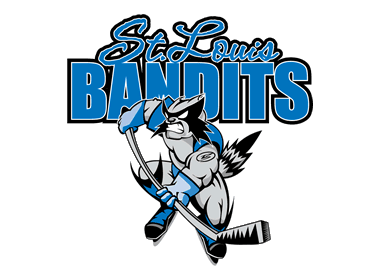 All good things must come to an end, or so they say.

For St. Louis Bandits head coach Jeff Brown, that was something he and the Bandits didn't want to hear after winning three straight Robertson Cups in 2007, 2008 and 2009.

But, after suffering three close losses at the 2010 Robertson Cup Championship Tournament, the Bandits remarkable run was over.

Unfortunately for the rest of the North American Hockey League (NAHL) this season, the Bandits appear even hungrier and poised for another run at the title they so desperately want back in St. Louis.

"No doubt there's that sense of disappointment from what happened back in May," said Brown, referring to the Robertson Cup tournament in Wenatchee. "Since I took over here, the mentality has been that we win every season, so to not come away with a title was a little bit of an eye-opener for us. My hope is that the players use it as motivation this season to try and get back to the top."

Back on top is where the Bandits find themselves this season as they lead the North Division heading into 2011. Since the Bandits move from Texarkana to St. Louis in 2006, the team has won three regular-season division titles in four years and appears to be on their way to another.

The Bandits enter the New Year with a nine-point lead in the North Division - the largest lead of any of the four NAHL divisions - and Brown believes he has a team that can contend again for a Cup.

"I'm pleased so far," said the coach. "We've had a few injuries, but because we have so many returners on the roster with experience, they've battled through it and have played very well to this point," said Brown. "A year ago, we were very young, so it's nice to see those players mature, which is the reason we've had some good success this season."

Despite the fact St. Louis has one of the top offenses in the league and one of the league's top scorers in Chris Ciotti, it's team defense that's their bread and butter.

"That's the way I played, that is the way I teach, and if the players don't buy into it then they don't play," said Brown, who played 13 NHL seasons totaling 747 career games. "It's as simple as that and that's how important playing good defense is to our success as a team."

The Bandits are allowing their opponents the least amount of shots on goal per game, they rank second in fewest goals-against and they have the league's top statistical goaltender in Matt Green, who had a perfect 4-0 record in the month of December.

It's a formula that continues to give the Bandits success and one that keeps repeating itself season after season, so it should come as no surprise to anyone that the Bandits are leading their division, playing well and have their sights again set on another Robertson Cup championship.

It's still a long way to Topeka for the 2011 Robertson Cup Championship Tournament in May, but St. Louis appears to be on the fast track back to where they feel they belong: back on top.

NORTH DIVISION NOTEBOOK

CHICAGO HITMEN: Chicago returns to action this weekend as it travels to Traverse City to take on the North Stars. Defenseman Hunter Brown leads the Hitmen with five points in his last five games. Brown leads all Hitmen defenseman in points with 20 and leads the entire Hitmen team in assists with 18. Forward Austin Cihak is the only Hitmen player to appear in all of its 31 games thus far.

JANESVILLE JETS: The Jets had quite a battle on New Year's weekend with in-state rival Coulee Region. On Friday, forward Joe Horak had two goals and then the only goal in the shootout as Janesville upended the Chill on home ice in the extra session, 5-4. The next night, forward Truman Landowski scored the only goal in a 2-1 loss. The fourth-place Jets have a big series this weekend when they host second-place Motor City for three straight games beginning Thursday.

MICHIGAN WARRIORS: Forward Andrew Kolb, who is committed to Michigan Tech, continues to light it up for the Warriors. Kolb has scored in all but two games this season for Michigan and is working on a five-game point streak. He posted a season-high four points on Wednesday as the Warriors topped Traverse City, 5-3. Kolb also has 12 multi-point games this season. Michigan recently acquired Port Huron leading scorer Ryan Green in a five-player deal with the Fighting Falcons.

MOTOR CITY METAL JACKETS: After some lengthy time off, the Metal Jackets return in 2011 with three big divisional games at Janesville. The Metal Jackets went without a regulation loss in the month of December and haven't lost a game in regulation since Nov. 14. Motor City split its first series with the Jets back in early October. Motor City leads the league in power-play goals with 56 and forward John Scorcia is tied for the team lead with 10 power-play goals.

PORT HURON FIGHTING FALCONS: The roster changes continued over New Year's for the Fighting Falcons as leading scorer Ryan Green and forward Jeremy Humenny were sent to the Michigan Warriors in exchange for defensemen Bret Lewandowski, Ryan Teal and forward Ian Miller. Ironically, the Fighting Falcons will face the Warriors this weekend in a home-and-home series. Forward James Rudi Pino was acquired in a trade with Aberdeen and is the active leading scorer on the Port Huron roster.

SPRINGFIELD JR. BLUES: The Jr. Blues open 2011 with a key home-and-home series against St. Louis this weekend. Forward Gavin Tufte has six points in his last five games and is second on the team with four game-winning goals this season. Defenseman and Quinnipiac recruit Jack Callahan continues to lead all NAHL defensemen in points (35) and assists (29).

TRAVERSE CITY NORTH STARS: Forward Kelin Ainsworth is arguably one of the hottest players in the league right now. He has recorded back-to-back hat tricks in his last two games and has at least a point in 12 out of his last 13 games. On Wednesday, Ainsworth scored all three of the North Stars' goals, which all came on the power play in a 5-3 loss at Michigan. His shooting percentage of 22.6 percent is the best on the team, and the second-year forward is just four points away from matching his point total from last season.