Former NAHL defenseman Poolman makes NHL debut
October 10, 2017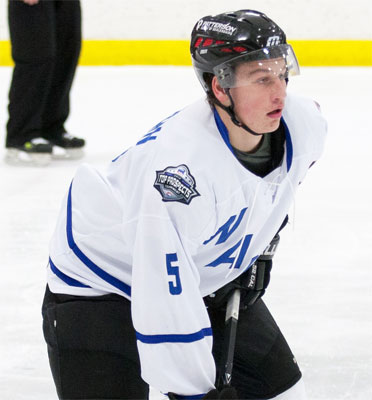 Former NAHL defenseman Tucker Poolman had been on stand-by and the Winnipeg Jets rookie finally got the call he's been waiting for.
Poolman, who earned a job on the 23-man roster thanks to a strong training camp and pre-season, replaced Dustin Byfuglien for Monday's game against the Edmonton Oilers and started on a pairing with Toby Enstrom.
At age 18, Tucker graduated from East Grand Forks Senior High in Minnesota with zero college scholarship offers. He drove from city to city trying out for North American Hockey League teams, and he was continually released.
"He has persevered more than any player I've ever seen, playing or coaching," said former Senior High coach Tyler Palmiscno, who recalled Tucker being a 5-foot-4, 130-pound forward as a sophomore. "I know when those teams were releasing him, it was hard for junior hockey teams, because they saw the potential, but coaches and organizations need to win now. A lot of times, they don't get players the opportunity to show their potential. It took one coach with the right mindset."
Tucker and Mark drove to Chicago to try out for the NAHL's Wichita Falls Wildcats. On the drive, they agreed that if Tucker didn't earn a spot on the Wildcats, he would just enroll at UND as a student.
Tucker had already applied to UND and received his acceptance letter.
But the Wildcats put Tucker on the roster, starting a rapid six-year ascent that would lead to the NHL. In 2011-12, he was with Wichita Falls. That season, he recorded 29 points in 59 regular season games.
Poolman also was selected to and played in the 2012 NAHL Top Prospects Tournament that season.
"It's exciting. We'll see what happens but either way, you've got to prepare so you're ready," Poolman said this morning, when his status was still up in the air. "Mostly when old friends, coaches or family will call, that's when I think about the journey and kind of savour it. But other than that, I've been focusing on the days here."
As is the case with many players making their NHL debut, Poolman, 24, was sent out for the customary solo lap during the pre-game warm-up before his teammates joined him.
Poolman, who turned pro after finishing his junior season with the University of North Dakota Fighting Hawks, has been trying to soak up everything he can while he's up with the big club.
"It's like watching video with the systems and seeing different tendencies of different guys," said Poolman, when asked what he's noticed from watching NHL games from the press box. "I've been watching the defencemen mostly, just trying to see if there is anything I've been missing or different things I can focus on (when) I get out there.
"The first day coach talked to me and said to always be ready, grind it out and be prepared at all times."
References
Poolman becomes the first player from East Grand Forks to play in the NHL (
read)
Poolman makes debut for Jets (
read
)