Sunday Wrap-Up: Generals, IceRays complete sweeps
October 9, 2017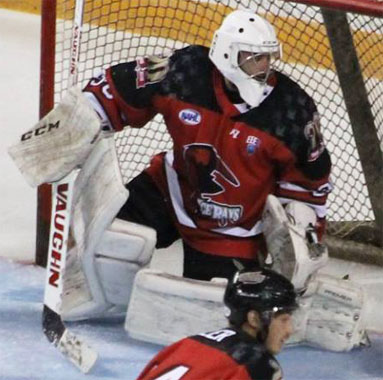 Johnstown 1 @ Northeast 4
- The Generals continued their hot start as they completed their three-game sweep of the Johnstown Tomahawks. Winning Sunday's contest by a score of 4-1. Joseph Mancuso, Mike Egan, Anthony Quatieri and Justin Jallen all scored in the win. Ryan Bogan added two assists for the Generals. David Fessenden improved to 5-2 on the season, turning aside 39 of 40 Johnstown shots. Ben Schmidling scored the only goal for the Tomahawks while Britt League made 38 saves.
Boxscore
Corpus Christi 2 @ Amarillo 1 (OT)
- Trevor Wilhelm's game winning goal 1:59 into overtime propelled the Corpus Christi IceRays to a 2-1 victory over the Amarillo Bulls. Jayson Dimizio and Pavel Koreshkov picked up the assists on the game winner. Josh Tripp scored a power play goal in the first with helpers going to Angus Scott and Larry Jungwirth. Chad Veltri was remarkable as he stopped 49 of 50 Amarillo shots. For the Bulls, Brandon Bussi was able to stop 30 of 32 Corpus Christi shots. Jon Russell scored the lone goal for the Bulls, with William Wellen and Quinn Warmth getting the assists.
Boxscore