Amarillo forward Truscott makes NCAA DI commitment
September 26, 2017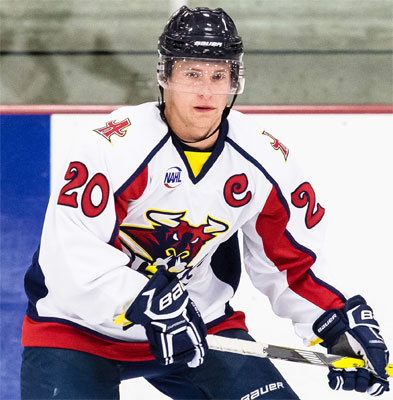 By Denis Puska, Amarillo Bulls
When players announce their NCAA College Commitment it can certainly bring back a flood of memories for them of how it all began. For Amarillo Bulls Team Captain Alex Truscott that is certainly the case.
"I can't help but look back at being a small kid from Salt Lake playing hockey for fun and looking at the other players that are also going Division I," Truscott said who hails from Draper, Utah. "it's cool to think about it and It's a huge honor."
The Amarillo Bulls, proud members of the North American Hockey League, announced that Alex Truscott has committed to Niagara University, in NCAA Division I Atlantic Hockey joining former Bulls teammates Eric Cooley, Luke Edgerton and Brendan Furry.
"I take a lot of pride being from Utah, that is just who I am," Truscott said. "I like going back there in the summers and working with the younger kids in youth hockey. There is a good group of us with NCAA Commitments from Colorado College, AIC and Brown University that like to grow the youth hockey scene."
Truscott played in all 60 games for the Bulls last year notching five goals and 16 assists for 21 points. This year Truscott, who already has two assists in four games, said the Bulls organization has had a major impact in his development.
"I wouldn't have been able to do it without the Bulls," said Truscott. "It's been a great organization for myself and my development. I think the way things are run is very professional and I think that will translate well into the Division I scene. The practices are intense and the accountability is high here."
Amarillo Bulls Head Coach Rocky Russo said the team is thrilled for Alex in announcing his NCAA College plans. "It's always a great honor to be an NCAA Student-Athlete. Alex has demonstrated the qualities necessary to be successful at the next level," he said. "His compete level, work ethic and skill set will be a tremendous asset for Niagara University. Congratulations to him and his family."
For many players getting that NCAA College Commitment taken care of early in a season can help them more focus on their junior hockey season. Truscott said it's great to have the weight of that off of his shoulders.
"When you don't have that commitment it's not something that you focus on a daily basis, but it's always in the back of your mind knowing you are going to have to move on, get your education and the next chapter of your life," he said. "It's nice to have that assurance to know where you are going to go to school for the next four years."
Alex Truscott is the first member of the 2017-18 Amarillo Bulls to announce his NCAA College Commitment. He joins Anthony Firriolo (Colorado College), Steven Ipri (Mercyhurst) and Jon Russell (Harvard) as Bulls players who have NCAA scholarships.