September 15, 2017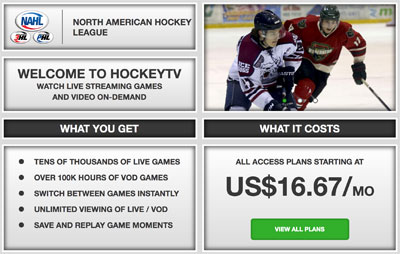 Nine games are on tap this weekend as the NAHL enters their first full weekend of games for the 2017-18 regular season.
All the games this weekend are in preparation for next week's 15th annual NAHL Showcase, which begins on Wednesday, September 20th in Blaine, Minnesota.
This season marks the 42nd year of the North American Hockey League (NAHL). The NAHL is coming off another record-breaking season as the NAHL set a new single-season record with 305 NCAA commitments, 70% of which were NCAA Division I commitments. In addition, three NAHL players that played in the league this past season were selected in the 2017 NHL Entry Draft. Over the course of the past five years, 1,200 NAHL players have made NCAA commitments and 17 more have been selected in the NHL Draft.
While the Central Division won't begin regular season play until the Showcase, the East Division is in full swing with Northeast finishing off their three-game series with Johnstown on Friday and New Jersey and Wilkes-Barre/Scranton opening up with a home-and-home series. The Generals have been dominant in their first two games, outscoring the Tomahawks 9-3 in wins on Wednesday and Thursday as they already have half the number of wins they did all of last season.
The Midwest Division has just one lone game this weekend as Janesville is in Springfield on Saturday. It will mark the coaching debuts for two new head coaches as Gary Shuchuk (Janesville) and Tyler Rennette (Springfield) begin their new eras behind the bench.
In the South Division, the Lone Star Brahmas begin their defense of the Robertson Cup with a weekend series in Shreveport. On Friday night, the Mudbugs will retire the jersey of Brahmas head coach Dan Wildfong, who played professional hockey in Shreveport for eight seasons. The Corpus Christi IceRays visit the Topeka RoadRunners for a two-game series to open the season and finally, the Rocky Russo era begins in Amarillo as the Bulls host the Odessa Jackalopes on Saturday in the regular season opener for both clubs.
Friday, September 15
Johnstown at Northeast - 3:00 PM EDT
New Jersey at Wilkes-Barre/Scranton - 7:30 PM EDT
Corpus Christi at Topeka - 7:05 PM CDT
Lone Star at Shreveport - 7:11 PM CDT
Saturday, September 16
Janesville at Springfield - 6:05 PM CDT
Wilkes-Barre/Scranton at New Jersey - 7:30 PM EDT
Odessa at Amarillo - 7:05 PM CDT
Corpus Christi at Topeka - 7:05 PM CDT
Lone Star at Shreveport - 7:11 PM CDT