North Report: Chicago's spirits high heading into 2011
December 31, 2010
by Alex Kyrias | NAHL.com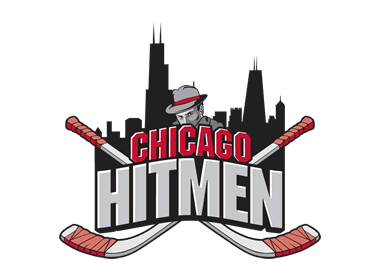 You can't blame Chicago Hitmen head coach Steve Pronger for wanting to turn the calendar over from 2010 to 2011.

The first year expansion Hitmen had just seven wins through the first half of the season. However, that doesn't mean the attitude around Hitmen camp isn't positive heading into 2011.

"It's a New Year, and we have 27 games to turn some of the positives into winning," remarked Pronger. "We feel like we played a couple of real close games against some real good opponents prior to the break that will allow us to build on some momentum we've created."

The recent games Pronger refers to are an overtime loss to Motor City and a shootout loss to Janesville, both coming right before the Christmas break. In both instances, the Hitmen trailed in those games and had to fight its way back to earn a valuable point.

"We have to have a game-by-game mentality," said Pronger. "There have been a lot of positives the last few weeks and we need to take those into our next game. We don't want to look too far ahead because you set yourself up for heartbreak. The focus has to be on the present."

Part of that present and positive for Chicago has been the play of forwards James Albrecht and Joe Sposit. Both players participated in the 2010 NAHL Top Prospects event in Boston and Pronger said it was a shot in the arm for the players and the team.

"It was such a great event and both James and Joe contributed and scored, so the entire organization was very happy about the outcome and their success," Pronger said.

Pronger also said that as a result of the event, both Albrecht and Sposit have had a lot of interest from NCAA Division I programs and hope to announce some signings soon.

One of Chicago's early hurdles was consistency. Through its first 31 games, the Hitmen had a total of 44 players play in at least one game this season.

"It makes it hard, because we struggled to find that mix of players that were the right fit with one another," said the coach.

Pronger said one of the keys to future success lies in goal with Brennan Knoblock and Reid Mimmack. Both were recently acquired in trades (Knoblock from Traverse City and Mimmack from Springfield) and Pronger feels like they're the right two to solidify the back end.

"We finally feel like we're there as we head into 2011. Chemistry is so important among your players."

So there reason for optimism in Chicago.

"We just signed our first two tenders for next season and we're excited about the future," said Pronger. "However, there's still work to do this season and reason to believe that with some consistency and less player movement, we can have some success and get ourselves back in this thing.

"We think we finally have the right mix and can still be a factor in the North Division."

NORTH DIVISION NOTEBOOK

JANESVILLE JETS: Winners of their last three games, the Jets are finally back on track after dropping four out of five games against division-leading St. Louis in late November and early December. Goaltender David Jacobson was in goal for all three wins last week, including a sweep of in-state rival Coulee Region. Jacobson allowed four goals in the three games earning him the NAHL Goalie of the Week award. Ross Mauermann has been on fire offensively averaging two points a game over his last five.

MICHIGAN WARRIORS: Michigan hits the halfway point of the season as one of the pleasant surprises in the NAHL. Tied for third in the North Division with Traverse City, the Warriors have the second-best record of any of the NAHL expansion teams this season. Michigan's ability to stay out of the penalty box has been key to its success. The Warriors have the second-to-least amount of penalty minutes in the league, which is one of the reasons their power play ranks fourth. The Warriors return to action Jan. 5 with goaltender Robert Tadazak ranking fourth in the NAHL in save percentage.

MOTOR CITY METAL JACKETS: Although NAHL leading scorer Cody Wydo gets most of the accolades, it's defenseman Mike Monfredo who has the Metal Jackets rolling as one of the hottest teams in the NAHL. In fact, the Metal Jackets haven't lost a game in regulation since back on Nov. 14 in a road loss at division-leading St. Louis. During that 10-game stretch, Monfredo has 18 points and was named as NAHL North Division Player of the Week last week for the second week in a row. Monfredo is tied for goal scoring among all league defensemen and ranks second in points.

PORT HURON FIGHTING FALCONS: New Fighting Falcons head coach Bill Warren and new general manager Marty Haddad were encouraged with the team's performance prior to Christmas break, which included two tough, two-goal losses to Michigan. "I can't speak highly enough of our players for the way they've handled the situation," said Haddad. "It would have been easy for them to not be at their best in the games against Michigan and every guy out there played hard and gave it everything they had." Forward Russell Blaser has six points in 12 games played with Port Huron since being acquired in late October.

SPRINGFIELD JR. BLIES: The Jr. Blues have played 34 games thus far and open 2011 with a key home-and-home series against St. Louis on Jan. 7-8. Springfield stumbled in two games against the Bandits prior to Christmas break, but prior to that were on a tear, which included seven straight games without a regulation loss. The Jr. Blues are actually better on the road than they are at home, posting a 10-7-1 mark on the road this season. Forward Mike Fallon leads the team with 12 points in his last 10 games.

ST. LOUIS BANDITS: It appears all is right again with the division-leading Bandits. They have taken points in eight out of their last nine games and have opened a nine-point lead atop of the North Division. However, the Bandits have also played an NAHL-high 35 games so far this season. The Bandits success lies in their team defense, as they are allowing a league-low 23 shots per game and have the highest ranked penalty-killing unit in the league. Blueliner Kevin Zehnder has already set career highs for points, is third on the team with a plus-14 rating and has five points in his last three games.

TRAVERSE CITY NORTH STARS: The defending North Division playoff champions are continuing right where they left off last season, with a slightly better winning percentage this season. Michigan native and forward Tim Opie is leading the way offensively. He currently has an eight-game point streak going, having scored 12 points in that span and is also leading the team in scoring with 27 points through the first half. Goaltender Tyler Marble has appeared in 13 out of the last 14 games for Traverse City, and ranks tied for fourth in the NAHL in games played with 25.