23 in 23 Series: Odessa Jackalopes
September 6, 2017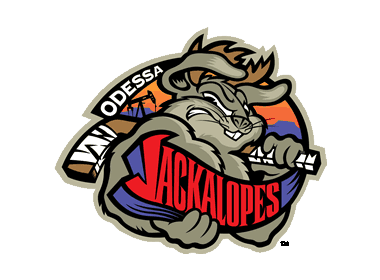 The 23 in 23 series features a look at all 23 teams in the NAHL for the 2017-18 season, with a new team being highlighted daily, leading all the way up until the start of the regular season. 23 in 23 looks into each NAHL team and will include video interviews with 23 coaches in the NAHL, as they provide fans with their expectations and outlook for the season, including taking a look at their strengths as a team and thoughts on the league. It will also take a look back on last season and how each team fared and what they accomplished.
Odessa Jackalopes
Head Coach: Greg Gatto (5th year)
2016-17 record: 26-25-9, 61 pts. (5th in the South Division)
2016-17 leading scorer: Chase Thudium (70 points)
2017 Playoffs: Did not qualify
2017-18 Division: South
First regular season game: Saturday, September 16th vs. Amarillo Bulls
Home opener: Friday, October 6th vs. Shreveport Mudbugs
On the surface, the season for the Odessa Jackalopes in 2016-17 was a successful one. After all, the team did have 61 points and their best record during the regular season, which was the most since coming into the NAHL during the 2011-12 season. The team also had 11 players end up with NCAA commitments during the season, which contributed nicely to the league's total of 305 in all.
The Jackalopes also were able to develop some high-end talent, which included having the league's scoring champion in forward Chase Thudium, who finished the season with an NAHL-high 70 points during the 2016-17 regular season.
But, inconsistency plagued the Jackalopes throughout most of the 2016-17 regular season and it wasn't until the end of the season that the Jacks played their best hockey. Over the course of their last 12 games, the Jackalopes posted a 7-1-4 record and climbed the South Division standings. However, their quest to make the Robertson Cup Playoffs fell just four points short.
"We finished real strong, but it definitely was a case of too little, too late. There are a lot of guys that went through that experience last year of feeling the pressure to make the playoffs that will be on the team again this year and I think that is going to have a positive impact on the way they approach this season," said Jackalopes head coach Greg Gatto. "The common theme is that you have to be consistent. We play in a tough league and the coaching is outstanding, so every game is a battle and a grind and there are no easy games."
Gatto said that part of the challenge is the recruiting part of getting players to leave home and come to West Texas and the Permian Basin. "The hockey in the South Division is very competitive and Odessa is a wonderful place to play junior hockey, but in most cases you are trying to convince a player and his family to make the adjustment and travel to us to play in the NAHL."
The Jackalopes will have a veteran team coming back in 2017-18, but did lose some very good talent, which includes their top two scorers in Thudium and Zach Zech. Both goalies, Jon Flakne and Jonny Hogue, have aged out and other players who are off to the NCAA include Connor Wood, Levi Wunder and Jake Levin.
The Jacks have had some recent success with foreign born players from Sweden like Ludwig Stenlund last season and Hampus Sjodahl the season prior to that. Gatto said that he expects that trend to continue with a new group of players coming over to realize their dream of playing NCAA hockey. "We have a couple of players coming over from Sweden that should be able to make an impact and who we have liked what we have seen in scouting them. Sometimes you have to let things play out, because how guys look when you scout them and then how they react when they actually play in an NAHL game could be totally different," said Gatto.
One of the top returners for Odessa should be forward Zach Heintz, who had a very good rookie season last year with 26 points (12 goals, 14 assists) in 54 games played. "You always hope that second year players like Zach come back better and ready to take things to the next level. These guys have to want to be a hockey player and do the right things in the off-season and during the season to improve," said Gatto.
As for the goals for the 2017-18 season, Gatto thinks that a Championship is within reach. "We had our best record that we have ever had last year, but the first goal is to be better than that. That starts with being a playoff team and then winning a Championship. For us that is the ultimate goal," said Gatto. "It is a great time to be involved with the NAHL, whether you are a coach, a player, a fan, or just a lover of hockey. It shows how far the NAHL has come. The league is a big draw right now and it is developing our following everywhere and making it a true destination for players that have NCAA dreams."
Next up in the 23 in 23 series: Philadelphia Rebels