23 in 23 Series: Johnstown Tomahawks
August 25, 2017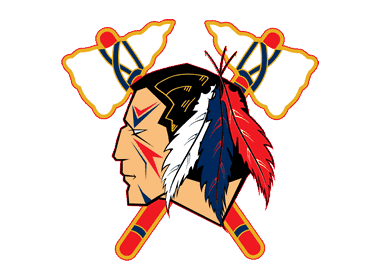 The 23 in 23 series features a look at all 23 teams in the NAHL for the 2017-18 season, with a new team being highlighted daily, leading all the way up until the start of the regular season. 23 in 23 looks into each NAHL team and will include video interviews with 23 coaches in the NAHL, as they provide fans with their expectations and outlook for the season, including taking a look at their strengths as a team and thoughts on the league. It will also take a look back on last season and how each team fared and what they accomplished.
Johnstown Tomahawks
Head Coach: Mike Letizia (4th year)
2016-17 record: 40-16-4, 84 pts. (2nd in the East Division)
2016-17 leading scorer: Nick Bruce (67 points)
2017 Playoffs: Lost in the East Division Semi-Finals to New Jersey, 3 games to 0
2017-18 Division: East
First regular season game: Wednesday, September 13th @ Northeast Generals
Home opener: Friday, October 14th vs. Philadelphia Rebels
On the surface, the 2016-17 season was one of, if not the most successful in the history of the Johnstown Tomahawks. The team won a franchise-record 40 games during the regular season and was 4th in the NAHL in points during the regular season with 84. The Tomahawks also maintained their tremendous fan support, finishing 4th in average attendance as the 2015 Hockeyville USA winner continued to be embraced by the fans of Johnstown, Pennsylvania.
All indications were that the Tomahawks were poised for a Robertson Cup run, but in the East Division Semi-Finals, the Tomahawks were swept by the New Jersey Titans, which included losses at home during Games 1 and 2, and then an overtime loss in Game 3, which ended the season for head coach Mike Letizia and crew.
"Our ultimate goal is to win a Robertson Cup Championship and bring it to Johnstown. We want to win our division and give ourselves a chance. Our past couple of seasons have been really good regular season with wins and commitments, but unfortunately when it comes to the playoffs we have fallen short," said Letizia. "The difference between winning and losing in the post-season is a very fine line and all the games were close, but we have to find a way to start winning those playoff games and take the next steps as a team."
A year after leading the NAHL with 17 NCAA commitments in 2015-16, the Tomahawks had nine more NCAA commitments last year, putting them right at the top of the NAHL for commitments by a team in the last two seasons. Letiza said that the philosophy behind trying to build a successful team and cohesive unit begins the first day of training camp. "We know our division is very tough. It starts with the coaching staff to instill in the players what it is going to take to be successful. One thing we preach is that there are no days off in the NAHL. All 23 teams are working just as hard to compete and ultimately beat you, so you have to remained focused on what you can do each day to become better," said Letizia.
Entering the 2017-18 season, the Tomahawks will be relatively young as several players have aged out or made NCAA commitments from last year's squad. Letizia said that despite the inexperience, it opens the door for more players getting an opportunity. "We want to get as many guys as we can committed to NCAA Division I programs and open as many doors as we can. As NAHL coaches, that is our primary job is to advance our players and in the process, try and win some hockey games."
The Tomahawks will return goaltender Vinnie Purpura, who played very well during stretches of the season last year, particularly in the second half, as he posted a 12-4-2 record overall. "Vinnie is a guy we are going to lean heavily on for success and he come along really nicely last year. He came into camp and really showed that he was ready to be the starter for us this season, so we are excited about having him in goal," said Letizia.
Along the blueline the Tomahawks return two defensemen in Andy Iehle and Chris Trouba, who will look to bring a veteran presence to the line-up. Iehle had 15 points in 50 games last season and Trouba played in 34 games and recorded five points. Up front, Logan Stork, Mitchell Hale and Joseph Kile headline a group of players up front who will be looked upon to put the puck in the net. Stork had 26 points in 53 combined games last season, Hale had 16 points in 56 games and Kile had 17 points in 50 games played.
"We are fortunate to live in a community where the fans understand and are passionate about hockey. Since the Tomahawks came into the picture, the fans have really embraced the NAHL product and enjoy the frequency that our players are involved in the community," said Letizia. "Beyond the number of NCAA commitments and success on the ice, it is one of the main talking points and benefits of the Tomahawks organization is that we have such a great support system behind us. That makes us strive to be successful and try and win a Championship because we know how much it would mean to them."
Next up in the 23 in 23 series: Kenai River Brown Bears