Tadazak comes full circle with Warriors
December 27, 2010
by Matt Mackinder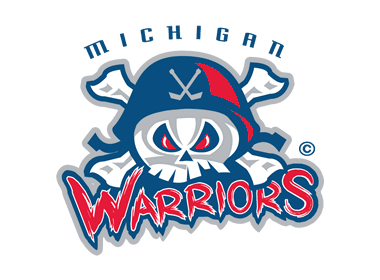 Robert Tadazak is probably the second most-famous hockey player to come out of Lapeer, Mich.

It's a pretty safe bet Atlanta Thrashers forward Jim Slater, an NAHL graduate, is the first.

But in any event, Tadazak has come home this season to finish his junior eligibility where it all started.

The 20-year-old goaltender started his junior career in 2006 with the Flint Jr. Generals of the then-Central States Hockey League (now North American 3 Hockey League) and four years later has arrived back in Flint with the Michigan Warriors.

Suffice to say, he's happy to be home.

"I was actually at work and I got a call from (Alexandria Blizzard head coach) Doc (Delcastillo) telling me that I had been traded to (Michigan)," remembered Tadazak. "(Warriors assistant coach Kevin) Carlisle had told (Warriors head coach Moe) Mantha about me and said he really wanted me to come here. That was a good confidence-booster. Carlisle coached me with the Jr. Generals and knew what type of a goalie I was."

After two years with the Jr. Generals, Tadazak played the 2008-09 season with the Dubuque Thunderbirds of the CSHL before moving to the NAHL last year with Alexandria. There, he was part of a goalie combo with Chris Kamal, now a freshman at Alaska-Anchorage.

"Last year was (Kamal's) first year in the NAHL and mine, too," said Tadazak. "We battled each other for playing time and it was really a great experience. We stay in touch, so it ended up being more than just a fight for playing time."

Tadazak also explained how he's matured as a goalie since his first stint in Flint.

"Back when I was 16, I was a nervous goalie," admitted Tadazak. "I'd let in a goal and get scared and start wondering what would happen if I gave up another. I've learned over the years to just worry about your own game and knowing that getting the 'W' is all that matters."

Last summer upon hearing he was moved to the Warriors, Tadazak immediately went online to see what he could find out about Mantha and the organization.

"I did my research and saw that Moe had coached at (USA Hockey's National Team Development Program) and in the minors, played in the NHL and had done well as a player and a coach," Tadazak noted. "Everyone I asked spoke well of him, so I knew then that coming to Flint would be a great opportunity."

His opportunity went sour for a stretch last month when a knee injury felled Tadazak for several games. During a game against Traverse City, a scrum in the crease wound up with a player landing on Tadazak.

"I hated sitting out and it literally brought me to tears," said Tadazak. "But I figured if I played hurt, there would be more harm than help to the team. Sitting out and watching a game is more nerve-wracking to me than actually playing because when you play, you have some sort of control over what happens. Watching from the stands, you don't have that control."

Now healed and healthy, Tadazak and Brach Tiller vie for ice time on a daily basis. It's healthy competition Tadazak experienced last year in Alexandria and competition he relishes.

"You always want competition," said Tadazak. "You never want anyone to give up and with Brach, it's not like that. We know who he is and what he's capable of and if he's in there, we know we can rely on him. If I'm in there, I'd like to believe the guys feel the same way about me."

Tadazak is banking on his talent taking him to the college hockey platform next.

"I've heard from a few schools and I'm hoping to make a decision by the end of the year," said Tadazak.