NAHL head coaches meetings conclude in Texas
August 10, 2017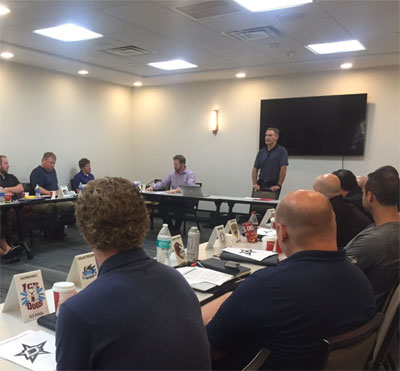 The NAHL head coaches meetings took place on Monday and Tuesday in Frisco, Texas and by all accounts the gathering was a productive and successful one.
The annual meetings are held prior to the start of the regular season and are designed to bring all 23 of the league's head coaches together to discuss league matters and bring up everyone up to speed and rules, player safety initiatives, partnerships, protocol and procedures.
"I think the meetings were very productive for everyone. Nine months out of the year, these coaches are going head-to-head against one another on the ice, so it is good to get them in a setting where they share ideas for the good of the game and the good of their players," said NAHL Commissioner and President Mark Frankenfeld.
The meetings began with a greeting and discussion from NAHL Commissioner and President Mark Frankenfeld. That was then followed by a discussion involving marketing, communications, social media and partnerships by Alex Kyrias.
Later, the group heard from newly appointed Director of Player Personnel Tony Zasowski about NAHL Central Scouting and the NAPHL. Zasowski was a former NAHL head coach, having coached the Springfield Jr. Blues for the past five seasons.
Vice-President of Hockey Operations Denny Scanlon then went into the relationship with NHL Central Scouting and the season timeline for NHL prospects playing in the NAHL. 13 NAHL players have been drafted into the NHL the past three seasons.
That was followed by presentations from exclusive equipment partners Bauer and Vaughn.
The night ended with a group outing to Top Golf for dinner, entertainment and golfing.
The following day began with discussions on officiating and player safety with the NAHL Director of Officiating Chris Allman.
That was followed by a presentation and talk from Les Jackson from the NHL's Dallas Stars. Jackson, who is the Senior Advisor to the General Manager, is widely respected as one of the best talent evaluators in hockey, having helped build the Stars into the consistently competitive hockey club that it has become over the last two decades.
He discussed his background and he rose through the ranks coaching junior hockey, which ultimately led him to working in the NHL.
The meetings wrapped up with more discussion on player movement and rules and regulations.
The NAHL head coaches will meet again in February of 2018 in Plymouth, Michigan during the NAHL Top Prospects Tournament.