Dibble steps down as head coach in Janesville
August 1, 2017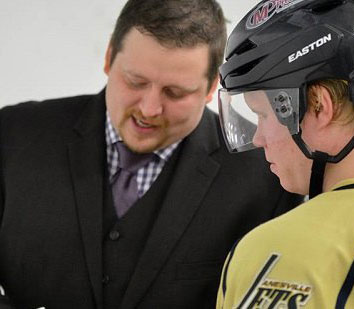 The Janesville Jets, proud members of the North American Hockey League, today announced head coach Joe Dibble will be stepping down effective August 15th. Dibble and his family plan to relocate to the Twin Cities to be closer to family. Dibble has been the Jets head coach for the past five seasons.
"In my career, I have been unbelievably fortunate to coach for some amazing organizations, but perhaps none better than the Janesville Jets. Words cannot accurately express how proud I am to have been part of this program's ascent into greatness, and how lucky I consider myself to have known the dozens of athletes who we helped take the next step in their developments," said Dibble.
"Janesville has itself one heck of an organization, from top to bottom, on and off the ice, and I want to thank everyone in the Jets family for the last five years. The fans, the sponsors, the staff, the billets, my assistant coaches, my players, everyone is top notch. My family and I are going to miss Janesville, and we are looking forward to the next chapter," continued Dibble.
Over five seasons as both head coach and general manager, Dibble changed the culture of the Jets, and, to a certain extent, the NAHL, by putting a priority on player development and advancement, and trusting that wins would follow. Dibble's Jets had one NHL draft pick,
helped 51 players achieve their dream of playing NCAA Division I hockey, and had
21 USHL draft picks (eight of which came from this season alone). Dibble amassed a 181-91-28 career record and saw particular excellence over the last three seasons, seeing a 126-40-14 record (.739 points percentage), winning two NAHL division titles and reaching the Robertson Cup Semi-Finals twice.
"My partners and I want to wish Coach Dibble all the best as he leaves coaching to get involved in the administrative side of the hockey business. Together we have made Janesville a destination for elite hockey players who want to develop and advance to the NCAA Division I or III levels and the USHL," said Jets President Bill McCoshen. "Coach Dibble will always have a tremendous coaching legacy in Janesville and left us in very good shape going forward."
"We are proud of the championship culture we have created in Janesville. Our brand is strong and will allow us to attract another high-quality head coach. We will find a new head coach that shares our values of doing right by the players and by the community. We remain committed to player development and advancement over winning at any cost. The Jets are a community team and our players will remain actively involved in the community," said McCoshen.
A search for a new head coach is already underway.