Rebels forward Yakovlev makes NCAA commitment
July 14, 2017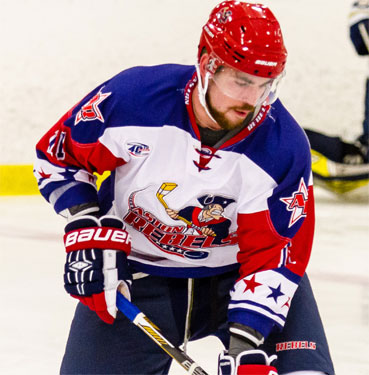 The Aston Rebels, proud members of the North American Hockey League (NAHL), are pleased to announce that forward Evgeny Yakovlev has committed to play NCAA Division III Ice Hockey for the University of Wisconsin-Superior Yellowjackets, who play in the Wisconsin Intercollegiate Athletic Conference (WIAC). His commitment begins in September.
Yakovlev, 20, had 38 points (11 goals and 27 assists) in 55 games during the regular season. He had eight points (5 goals and 3 assists) in eleven playoff games, including three game winning goals. His game winning goal in overtime in game three of the Robertson Cup semi-finals sent the team to the National Championship game.
He had a total of 67 points during his two-year tenure with the Rebels, which is third highest in the team's history. The Belgorod, Russia native played in two games in the 2017 NAHL Top Prospect Tournament back in February.
"I'm very excited to go UW-Superior," stated Yakovlev. "I would like to thank my family, friends and teammates for supporting me through the years and helping me get to this point," concluded Yakovlev.
"I'm so excited for Evgeny," said Rebels head coach Joe Coombs. "He was instrumental in our back-to-back division championships. He is a very good hockey player but even better person. I know he will succeed in no matter what he does," stated Coombs.
The University of Wisconsin-Superior is coached by former NAHL head coach Rich McKenna. This past season the Yellow Jackets had an overall 8-19-2 record.