NAHL, NAPHL alumni in abundance at NHL prospect camps
July 7, 2017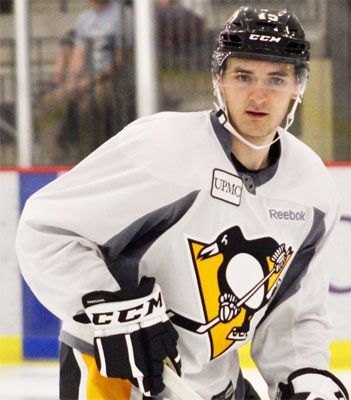 The summer of 2017 is yet another opportunity for dozens of NAHL and NAPHL alumni to attend annual development/prospect camps across the NHL.
All the NHL teams have their development/prospect camps during the month of July. Former NAHL and NAPHL players were once again a significant part of the mix as over 100 alumni of the two leagues were at camps in July.
The numerous NAHL and NAPHL alumni at NHL development/prospect camps comes on the heels of a memorable season for both leagues.
The NAHL set a new single-season NCAA commitments record with 275 commitments, including over 200 NCAA Division I commitments. The NAHL also saw three players selected in the 2017 NHL Draft.
The NAPHL had 56 players have their rights protected by an NAHL for the 2017-18 season. During the past two years, 120 NAPHL players have signed an NAHL tender or been drafted into the NAHL. In addition, two NAPHL alumni were selected in the 2017 NHL Draft
Below is a team list of NAHL and NAPHL alumni at 2017 NHL development/prospect camps:
*Know of anyone we missed? Please send us an email
Anaheim Ducks
Mitch Hults, F, Janesville Jets
Jake Kamrass, F, Topeka RoadRunners/Thunder National (NAPHL)
Garrett Metcalf, G, Omaha AAA (NAPHL)
Arizona Coyotes
Merrick Madsen, G, Minot Minotauros
Boston Bruins
Mason Jobst, F, Indiana Jr. Ice (NAPHL)
Cameron Clarke, D, Lone Star Brahmas/West Michigan Hounds (NAPHL)
Jeremy Swayman, G, Pikes Peak Miners (NAPHL)
Buffalo Sabres
C.J. Smith, F, Austin Bruins
Ivan Chukarov, D, Minnesota Wilderness
Calgary Flames
Sebastian Vidmar, F, Lone Star Brahmas
Carolina Hurricanes
Jack LaFontaine, G, Janesville Jets
Chicago Blackhawks (camp roster not posted yet)
Colorado Avalanche
Tyson Jost, F, Pursuit of Excellence (NAPHL)
Columbus Blue Jackets
Mike Underwood, D, Aston Rebels
Ruslan Rakhmatov, D Amarillo Bulls
Lawton Courtnall, F, Omaha AAA & California Titans (NAPHL)
Robbie Stucker, D, Minnesota Magicians
Matiss Kivlenieks, G, Coulee Region Chill
Peter Thome, G, Aberdeen Wings
Dallas Stars
Roope Hintz, F, Bismarck Bobcats
Alexei Solovyev, D, Lone Star Brahmas/Texas Tornado
Detroit Red Wings
Chase Pearson, F, Atlanta Fire (NAPHL)
Adam Larkin, D, Kalamazoo K-Wings
Chase Perry, G, Wenatchee Wild
Edmonton Oilers
Kelly Klima, F, Springfield Jr. Blues
Kevin Kilma, F, Springfield Jr. Blues
Tyson McLellan, F, San Jose Jr. Sharks (NAPHL)
Mark Auk, D, Port Huron Fighting Falcons
William Graber, F, Brookings Blizzard
Florida Panthers
Evan Cowley, G, Wichita Falls Wildcats
Ryan Bednard. G, Johnstown Tomahawks
Chris Wilkie, F, Omaha AAA (NAPHL)
Los Angeles Kings
Cole Hults, F, Madison Capitols (NAPHL)
Michael Bitzer, G, Alexandria Blizzard
Brendan Harris, F, Bismarck Bobcats, Wenatchee Wild/California Titans (NAPHL)
Minnesota Wild
Sam Anas, F, Team Maryland/DC Capitals (NAPHL)
Brandon Duhaime, F, Pursuit of Excellence (NAPHL)
Sam Huff, F, Minot Minotauros
Marc Michaelis, F, Minnesota Magicians
Luc Gerdes, F, Jamestown Ironmen
Jake Linhart, D, Texas Tornado (NAPHL)
Brennan Menell, D, Omaha AAA (NAPHL)
Jake Kielly, G, Austin Bruins
Montreal Canadiens
Jon Lizotte, D, Minot Minotauros
Jordan Boucher, F, New Mexico Mustangs/Omaha AAA (NAPHL)
Scott Conway, F, Texas Tornado
Nashville Predators
Tyler Moy, F, California Titans (NAPHL)
Atte Tolvanen, G, Minot Minotauros/Minnesota Magicians
Andrew Shortridge, G, Aberdeen Wings
Tomas Vomacka, G, Corpus Christi Ice Rays
New York Rangers
Alec McCrea, D, Janesville Jets, California Titans (NAPHL)
New York Islanders
Dalton Hunter, F, Johnstown Tomahawks
Zach Jordan, F, Minnesota Wilderness
Tommy Marchin, F, Detroit Falcons (NAPHL)
Brett Mecrones, F, Janesville Jets
Derek Mecrones, F, Janesville Jets
John Stampohar, D, Fairbanks Ice Dogs
Eamon McAdam, G, Austin Bruins
Mareks Mitens, G, Aston Rebels
Stephen Mundinger, G, New York Aviators (NA3EHL)
Ottawa Senators
Todd Burgess, F, Fairbanks Ice Dogs
Philadelphia Flyers
David Drake, D, Indiana Jr. Ice (NAPHL)
Simon Loof, D, Lone Star Brahmas
Matej Tomek, G, Topeka RoadRunners
Derek Lodermeier, F, Soo Eagles
Wade Allison, F, Omaha AAA (NAPHL)
Darion Hanson, G, Aston Rebels, Lone Star Brahmas/Omaha AAA (NAPHL)
Pittsburgh Penguins
Ryan Jones, D, Minnesota Wilderness/Indiana Jr. Ice (NAPHL)
Dylan Zink, D, Brookings Blizzard, Jamestown Ironmen
Brady Ferguson, F, Amarillo Bulls
Mason Jobst, F, Indiana Jr. Ice (NAPHL)
San Jose Sharks
Alex Schoenborn, F, Wenatchee Wild/Omaha AAA (NAPHL)
Zach Frye, D, Wenatchee Wild
Alex Rauter, F, Wenatchee Wild
Jake Kupsky, G, Lone Star Brahmas
St. Louis Blues
Grant Frederic, F, Janesville Jets
Tampa Bay Lightning
Kris Oldham, G, Kenai River Brown Bears
Toronto Maple Leafs
Aleksi Mustaniemi, D, Coulee Region Chill
Austin Ruschhoff, F, Austin Bruins, Minnesota Magicians, Janesville Jets, Minnesota Wilderness/St. Louis Selects (NAPHL)
Grant Hutton, D, Janesville Jets, Corpus Christi IceRays/Indiana Jr. Ice (NAPHL)
Jakob Stridsberg, D, Fairbanks Ice Dogs
Ryan Cook, D, Aberdeen Wings
Vancouver Canucks
Justin Parizek, F, Aberdeen Wings
Vegas Golden Knights
Griffin Outhouse, G, Pursuit of Excellence (NAPHL)
Sebastian Vidmar, F, Lone Star Brahmas
Wyatt Ege, D, Fairbanks Ice Dogs
Brendan Harris, F, Bismarck Bobcats, Wenatchee Wild/California Titans (NAPHL)
Darian Romanko, F, Minnesota Wilderness
Martin Sundberg, F, Janesville Jets
Alexei Solovyev, D, Lone Star Brahmas, Texas Tornado
Grant Hutton, D, Janesville Jets, Corpus Christi IceRays/Indiana Jr. Ice (NAPHL)
Washington Capitals
Kristofers Bindulis, D, Aston Rebels, Soo Eagles
Adam Carlson, G, Coulee Region Chill/North Iowa Bulls (NA3HL)
Collin Delia, G, Amarillo Bulls/California Titans, Orange County HC (NAPHL)
Hampus Gustafsson, F, Amarillo Bulls
Benton Maass, D, Fairbanks Ice Dogs
Dmitri Zaitsev, D, Wilkes-Barre/Scranton Knights
Winnipeg Jets
Jake Kielly, G, Austin Bruins
Christopher Dienes, D, Traverse City North Stars
Croix Evingson, D, Shreveport Mudbugs
Tucker Poolman, D, Wichita Falls Wildcats
Jared Spooner, F, Bismarck Bobcats
Nico Sturm, F, Austin Bruins/Corpus Christi Ice Rays