NHL Draft Profile: Tomas Vomacka
June 23, 2017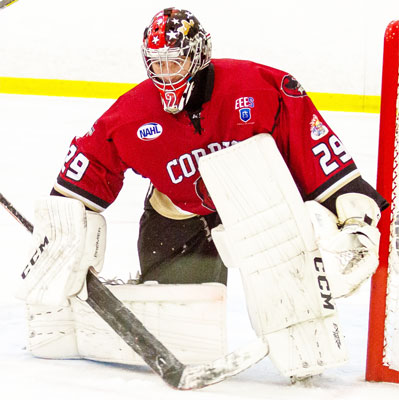 By Brianne Oricchio, USA
Junior Hockey Magazine
It might have been his first year playing in the United States, but newcomer Tomas Vomacka of the Corpus Christi IceRays certainly wasted no time taking the North American Hockey League (NAHL) by storm.
The 18-year-old goalie from the Czech Republic had a .923 save percentage for the 2016-17 regular season. He also finished with a .951 mark in his NAHL playoffs games.
The IceRays made it to Round 2 of the playoffs, where they lost to the Lone Star Brahmas. The Brahmas later went on to win the Robertson Cup.
So what are the 6-foot-3-inch Vomacka's thoughts about his first season, which saw him named to the league-wide All-Rookie Team?
"Last season was awesome! I met an awesome team with great coaches and teammates.
I am obviously happy [with] how we did in the season, but also [a] little bit sad about our loss in the South Division finals," Vomacka said, via e-mail from his home country.
Vomacka
was named South Division Goaltender of the Year and was also named to the All-South Division Team. Currently, he is ranked 14th among North American goalies for the NHL Draft. The Draft will be held this weekend on Friday and Saturday in Chicago.
Vomacka
knows what his strengths are, and what he wants to focus on a bit more, like strength training in the gym and more practice on the ice.
"I think I'm a flexible goalie with good skating in the crease,"
Vomacka
said.
"I still need to work on everything, but mostly I need to improve on my depth and work with my stick."
His draft plans involve flying to the U.S. this week with his mother a couple days before to enjoy Chicago, and then he is hoping to get picked by a NHL team.
In terms of the upcoming 2017-18 season,
Vomacka
still has one more year to go before he starts his NCAA Division 1 career with the University of Connecticut in 2018.