Wilderness defenseman Zmolek makes NCAA DI commitment
June 23, 2017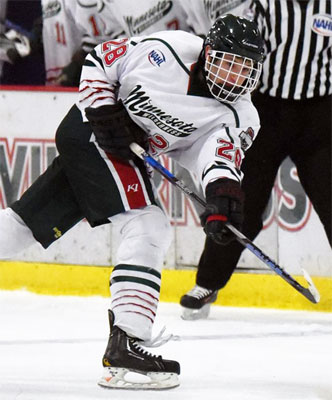 The Minnesota Wilderness, proud members of the North American Hockey League (NAHL), are proud to announce that defenseman Will Zmolek has committed to play his NCAA Division I Hockey at Bemidji State University.
Head Coach Tim Madsen had this to say about Zmolek's recent commitment: "Our entire organization couldn't be more proud of Will's accomplishment in committing to Bemidji State. They're getting themselves a great hockey player, great teammate, and great person. The sky is the limit for Will and to be attending a program that develops players like Bemidji, I think it's a perfect fit."
From Rochester, Minnesota, Zmolek, 18, joined the Wilderness during their playoff run after a very successful high school season with the Rochester Century Panthers. He played a total of a 24 games this year with the Wilderness which included all 10 playoff games. He tallied 1 goal and 3 assists during the season while also being a crucial part of the teams penalty kill and defense.
The newly committed Beaver had this to say about the year: "The Minnesota Wilderness are a first class organization. I am very thankful for everything they did for us as a team. Thank you to the ownership, management and coaches for making this possible. I would also like to thank the Lilly's, my billet family who made my stay and experience in Cloquet unforgettable. I am thrilled to have committed to Bemidji State. Without the organization's leadership and help, I never would have gotten this opportunity."
Zmolek (6'2/194) is the 9th Division One commit to suit up in a Wilderness Jersey during the 2016-17 Season.