Wings complete donation of teddy bears to hospital
June 15, 2017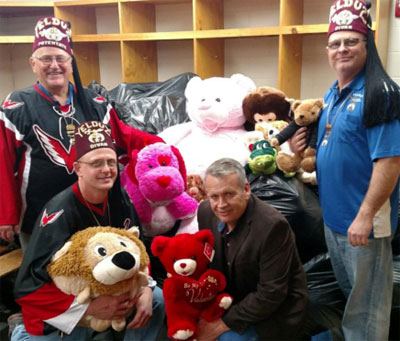 The Aberdeen Wings, proud members of the North American Hockey League (NAHL), helped to deliver over 900 teddy bears that were donated by Wings fans during the annual Yelduz Shrine Teddy Bear Toss in February to the Shrine Children's Hospital in Minneapolis.
This was the third year the Yelduz Shrine and Wings have teamed up for this cause. The Wings donated their team bus to help members of the Yelduz Shrine deliver the bears to the Children's Hospital.
Earlier this year the Wings announced they will be teaming up with the Shrine on another project for next season in 2017-18. Each year the Odde family choose an organization that they feel could benefit from jersey auction proceeds.
The group the Wings has chosen for next year is one of the oldest and largest fraternal organization in the area, and they just keep plugging away doing the work they do without many people noticing, the Yelduz Shriners.
The Yelduz Shriners are based in Aberdeen but consist of 648 men from the Missouri river to the Minnesota boarder and from southern North Dakota down south to Pierre. Yelduz is Part of Shriners International, which owns and operate 22 Shriners Hospitals for Children, located across North and South America.
Shriners Hospitals are committed to providing the best care for children in the specialty areas of Orthopedics, Burn Care, Spinal Cord Injury, and Cleft Lip and Palate, regardless of a family's ability to pay. The money raised at the auction will go to the Yelduz Transportation fund. That fund is used to pay for transportation of patients from the Yelduz Territory to one of the 22 hospitals. Depending on the care needed patients from this area either go to Minneapolis or to the burn hospital in Cincinnati.
Right now, Yelduz has 144 patients on their case load this year and average approximately 350 trips per year. Some trips are a simple van ride to the cities but a severe burn patient's trip to Cincinnati could be a plane ride that cost north of $80,000 each time. And Yelduz picks up the entire bill. Their motto is… "Having fun and Helping Kids" at next year's jersey auction. If you or someone you know is interested in becoming a Shriner visit
beashrinernow.com