NAHL seeks support for former Chill head coach Degenhardt
June 9, 2017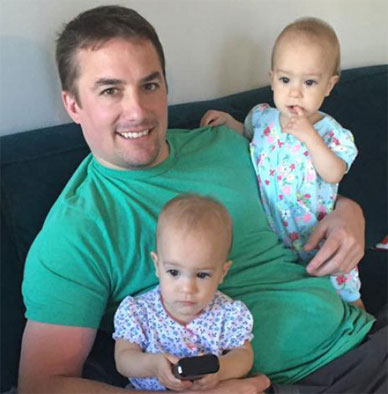 The North American Hockey League (NAHL) is requesting support for one of its own.
Former NAHL and Coulee Region Chill head coach AJ Degenhardt is currently undergoing the battle of his life with Multiple Sclerosis (MS).
In 2014, Degenhardt began having health issues and was diagnosed with MS, an unpredictable, often disabling disease of the central nervous system that disrupts the flow of information within the brain, and between the brain and body. Just over a year ago, Degenhardt resigned as coach of the Chill to focus on his health and his family.
Currently, the disease has progressed to the secondary progressive stage at this time and has severely limited his mobility and ability to do what he has always loved. Degenhardt has since had to take a break from working and hockey to focus on his health. He goes at his fight with MS the same way he played and coached hockey, relentless.
AJ has two young twin daughters, who are both just a year old. While AJ is doing everything he can for them, his abilities have been severely limited.
The family issued the following statement: "AJ and our family have always been and continue to be a strong advocates of the NAHL. Our family had a great experience during our time in the league. We know that is a very tight knit and supportive community and we appreciate any support for our family at this time."
Degenhardt was part of the 2006 National Champion University of Wisconsin Hockey Team. He went on to coach high school, midget and junior hockey organizations from all over the country, touching many young hockey player's lives.
A gofundme page
has been established for AJ and the Degenhardt family to assist with the mounting medical expenses associated with AJ's care. The money raised on the page, and at the Kollege Klub golf outing June 16, will go towards AJ's ongoing medical treatments.